Garden Geek Gear - Tools to Get the Job Done
Aug 11, 2012 02:18PM ● By Brian O
The Right Tools for the Job
Long, hot summers can mean that basic garden tasks often get put off in favor of other activities. Although I am an admitted garden geek, I too, will sometimes find myself procrastinating garden chores so I can float in a friend's pool with a refreshing and chilly drink, or hang out with the kids in the comfort of an air conditioned movie theater. But great gardens require at least a modest amount of attention year-round, so I will pack myself back outside - tools in hand - to be sure that everything is comfortable and healthy while it awaits the arrival of cooler temperatures.
Summer is the season when overheated homeowners are most likely to race to garden centers and hardware stores in search of tools designed to make garden tasks easier – a practice that can become quite costly. There are a few standard pieces of equipment that everyone should have on hand, but with a little imagination – and some tips from an old pro that has made plenty of high dollar mistakes in the past – Texas gardeners can enjoy every season more fully by using a handful of renegade tools that are both resourceful and inexpensive.
Tools Worth Every Penny
There are 5 basic garden tools that nobody should be without: a sharp shooter shovel, a round nose shovel, a garden trowel, a durable hose with a sturdy nozzle and quality hand pruners. If your garden is large, add a cart or wheelbarrow to this list. These are the most frequently needed tools – and the ones that take the most abuse – so buy the best that you can afford. If you have wooded property, a quality rake is a good investment, along with a hand pruning saw. Vegetable gardeners will want a decent hoe. Rose aficionados might want to purchase a hose end sprayer to apply foliar feeds each month. These tools are used less frequently so a middle-grade brand will suffice until you, too, reach full garden-geek status.
Uncommon – Yet Super Handy – Tools That Can Be Purchased Inexpensively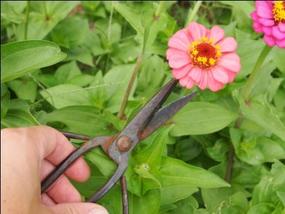 These gems can be purchased from both within and beyond the gardening realm. Once you try them, I know you will never be without each as an invaluable part of your garden-tool collection!
Steel, loop handled scissors: I purchased my pair of these old-fashioned home and garden scissors at a historic site almost 20 years ago. They have been left in the rain to rust, hit with the weed eater, used to cut woody stems and simply cannot be destroyed. Their pointed tips make them perfect for cutting herbs and vegetables, they are superstars at precise pruning chores, and their large loopy handles assure comfort as you cut.
A harvest basket: Whether your passion is for picking flowers or vegetables, a sturdy harvest basket with a mesh bottom is indispensible. Your crops can be carried from garden to table in the same attractive vessel, with a short stop at the hose for a good rinsing outdoors.
Soaker hoses: If you don't have irrigation installed at your property – or if you simply want to practice water (and financial) conservation and can't invest in drip irrigation yet – soaker hoses are the best way to keep plants watered during the hot summer months. I prefer the flexible nylon variety, because they are easier to wind around the base of plants. Soakers put water where the plants will use it – at the roots – and when the sun is at its most intense, they help prevent scorching problems by keeping water from sitting on leaves where it acts like a magnifying glass. If you have a larger garden, soakers can be linked together to cover more ground or moved from place to place as need arises.
Quick release hose fittings: for less than 5 dollars you can easily exchange your hose end nozzle, sprinkler and soaker hoses without all of the screwing and unscrewing.
Korean weeder/ cultivator: It looks like a medieval weapon for a reason – the pointed tip and easy-to-sharpen blade of this hand cultivator allow it to make very quick work of chopping weeds out of garden beds, especially during dry spells when it is hard to remove stubborn roots!
Trident cultivator: With three prongs of steel, nothing works better to rip grass out of garden beds when it invades, particularly St. Augustine.
A bucket apron: Also called a bucket caddy, these canvas aprons fit over 5 gallon buckets and are filled with pockets for toting various tools, seed packets, plant markers and even your cell phone around the garden.
Uncommon, but a little more expensive
As your love of gardening grows (and it always does!), these uncommon goodies are indispensible and still under $100.
Bokashi Bucket: This under-the-sink composter uses special bacteria to break down kitchen scraps into rich soil with an airtight lid. No muss, no fuss, no smells.
Fertilizer injector system: A small plastic jug attaches inline to your hose at the spigot. It can be filled with any variety of fertilizing or pest-fighting concoctions that will be diluted and evenly dispersed as you water. Common household items that will quickly become 'must-haves' in the garden: What could be better than freebies from your own home? Not surprisingly, many of these everyday objects originate in the kitchen – where the garden seems to meet the rest of the household.
Five gallon bucket: The next time you or a neighbor paints, be sure to rinse and save a few five gallon buckets. One should be fitted with a bucket apron, and others are perfect to haul dirt, debris, water and plants.
A kitchen apron with pockets: There are some things you always want right at your fingertips, and a pocketed apron is the place to keep them. Mine holds my steel loop handled scissors, a marker and seeds (both those being planted and those being picked to save for next year).
Plastic milk jugs: In either a gallon or half-gallon size, milk jugs serve as wonderful mixing places for organic garden formulas.
Sharpie marker in black: To label plant tags and jugs full of concoctions.
Paint stir sticks and popsicle sticks: for plant markers/tags.
Kitchen cutlery: Nothing makes a better tool for weeding young seedlings than a fork – its small size allows for precise control the way a larger cultivator will not. Spoons are great for digging impromptu holes in beds and pots. Knives are perfect for cutting tight root balls on potted plants before placing in the ground.
Toilet paper spools: Cardboard spools can be cut in half and placed on a plate or in a shallow dish and filled with soil to start seeds inside. The cardboard will wick water to keep seedlings moist, and can be placed in the ground with the plant because they rapidly decompose.
Whether you are an experienced gardener or new to the craft, having the 'right tool for the job' can turn dreaded and frustrating garden chores into pleasant tasks. The savings from repurposed and recycled items will help further your plant budget as well; assuring more garden-geeks will be joining the fold!
Article by Mary Phillips, Forgotten Works Garden Gallery. www.guardnplanet.blogspot.com
Embed this content on your website
Embed