Prep Your Heart to be Thankful
Oct 29, 2012 03:04PM ● By Abbey Lewis
With the seasons quickly rolling on and Halloween on the fast approach, now is the perfect time to focus on the month ahead and prepare to count our blessings. Although I am a firm believer that we should all try to practice having a grateful heart every day of the year, it doesn't hurt to put a full court press on thankfulness during the month of Thanksgiving. These last couple of years I have really been focusing my efforts on creating an awareness of all that we have to be thankful for around our house (I try to focus on it all year long but a big emphasis in November is always fun). The boy's schools do activities, so does our church, so I thought our house should be no different!! Last year, I blogged a grateful entry every day during November, I set up a little thankful table in our kitchen for the boys to write or draw what they were thankful for and I displayed their lists around the house, and I even kept a grateful journal on my night stand to write in every night before bed. All of these little things kept our hearts and minds aware of all the blessings we have been given, and reminded us how even during hard times there are things to count as blessings.
I think all too often our lives are caught up in the minute to minute race to accomplish it all and we miss out on the little blessings that fill up our days. We all set our eyes on the big picture, the prize at the end or the bottom line, and really the small things and the little victories are what should be our biggest gifts to ourselves. I even see it in our boys, they get a new toy or accomplish a new task but don't take the time to truly enjoy that new toy or celebrate that new skill before they are running out the door to learn something else, or start planning the next big thing they are going to buy. Having a thankful heart is what creates happiness. Counting our blessings is what leads us to realizing we are enough and we have plenty. Without a grateful spirit our lives are just an endless circle always of wanting more. Without grace in our heads and in our words, one's life will inevitably lead itself down a road of never feeling fulfilled or truly finding peace. As a mom, I think one of my biggest tasks is raising our boys to gracious people, who value what they have and show thanks at all times!!
To help us all get prepped to becoming more 'Thankful', I am going to start weekly post where I share what I am most thankful for living here in Mansfield. I will share what I love most about this city, what my family likes to do around town and what we feel blessed to be a part of in our community!!! Please share along with me and leave comments too!! We have a awesome community of people, businesses and local attractions that we should all be thankful for! And what better way to learn about where you live, invest in your community and the people who are your neighbors than by sharing your insights with them! I am super excited!!!
Before we start off next week... Here are a few small things you can do around your house to get your family in a 'thankful' mood: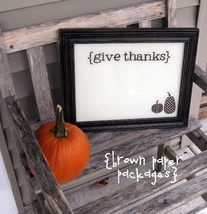 A simple frame can be made into a thankful board where your family can write daily what they are thankful for. Display it in the kitchen or living room so everyone can see it and read it all month long.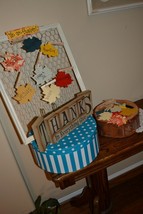 Gather some notecards and a peg board and create a thankful table. Let your family write what they are blessed by and then display the cards on the board all month long. You can even read the cards out loud at Thanksgiving dinner!!
All of the images provided are from my Pinterest boards. Click on the images for more information. Look for more Thankful entires starting in November!!!
Always - Abbey
Embed this content on your website
Embed