Don't Just Take Pictures...
Nov 01, 2012 01:19PM ● By Brian O
By Abbey Lewis
Now that Halloween night is a wrap and the costumes are put away, as you come down from your candy high, make sure you print your kiddo's or family's pictures!!! As a mom of 2 young boys I am on the go 24/7 and the last thing on my 'to do' list is print pictures, but believe me... I am so thankful that I do it and have those precious (and sometimes hilarious) moments to look back at! Having all of your pictures uploaded to the computer or flash drive is one thing, but having the images concretely secure in your hands is quite another!!! You enjoy them more when your pictures are printed. You share more stories and memories with your family and friends when pictures are visible and displayed around the house.. scrapbooks, frames, on the fridge!!!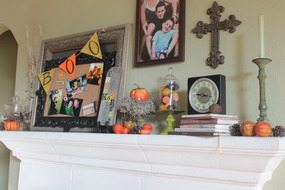 I am a professed lover of anything decorative! I get giddy when it is time to change up the decor in our house with the change of seasons and holidays! My boys get excited to see the new stuff and they hunt the house to call out all the changes I have made to our 'every day' decorations! My husband, on the other hand, tolerates it!! Hahaha... but that's another blog post entirely! ;) One thing I try to do is incorporate pictures in with all of my decorations! It adds such a personal touch to everything I put up and the kids just adore it!! Who wouldn't love to see pictures of themselves through the years, depicting fun times and cherished memories (or in a funny costume)!! Here are some examples of how I decorate with pictures to get that personal, family flare going... *Adding a decorative bulletin board to our mantle allows me to display multiple pictures.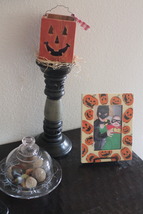 *Placing decorative frames on entry way or hallway tables.
Basically I stick a picture or a personal decoration anywhere I am frequently in the house!! That way I am sure to see it!! You wouldn't believe the conversations that are sparked amongst our boys and ourselves by just changing out pictures and putting them up with cool or funky decorations attached!! There are 2 big months coming up to add a little family flare to your home decor!! Do it!! Change it up!! Don't just take pictures... print them, use them, display them!!! You will not be sorry, I promise!! *Kitchen window sills or bathroom counters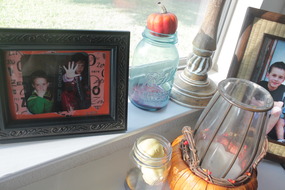 For more decorating tips and stories, check out my personal blog and pinterest pages:
http://abbey-amomentspeace.blogspot.com/2012/03/touches-o-green.html http://pinterest.com/abbeysl/
Always - Abbey
Don't Just Take Picture [5 Images]
Click Any Image To Expand
Embed this content on your website
Embed