Have a Happy, Healthy Holiday--Team Up with The Green Hulk
Nov 13, 2012 02:15PM ● By Kristen Lamb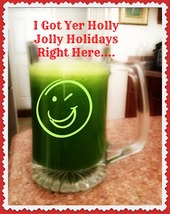 The holidays are upon us and anyone who has ever traveled during this time of year knows it can be a nightmare and a one-way ticket to Fluville. As the weather outside gets colder, homes, restaurants, and businesses crank up the heat. Add in stress, traffic, and a dash of delayed flights and we have the perfect environment for a virus or bacterial infection to take hold. The holidays are supposed to be the highlight of the year, so invest in your health.
Invest in a Juicer Then Go GREEN 
This past year, I've been blessed enough to speak all over the country. This has required A LOT of flying. Sixteen flights to be exact, and three of the sixteen involved hours and hours of sitting on the floor of some airport just praying to get home. With all the tension, aggravation and exposure to ookie airport carpet, one would think I'd be sick all the time.
Not so!
I've teamed up with The Green Hulk. Before I do any traveling, I make sure to drink at least 16-24 ounces of this green beast to keep my energy levels high and my immune system ready for battle. Now that we are in the holiday season and the demands are only increasing by the day? I know The Hulk's a key ally to keep you healthy and energized no matter what the holiday season throws your way.
The Green Hulk
1 bunch of organic kale
2 organic apples
1 organic lemon (peeled)
3 pieces of organic celery
Buying a juicer was one of the best decisions I ever made. I highly recommend Jack LaLanne's Power Juicer. It's affordably priced (less than $100), easy to clean, and requires very little prep work (peeling, slicing, etc.). Fresh juice is much higher in nutrients, and, yes, I recommend using organic fruits and veggies. I know they are a bit more expensive, but those extra pennies are worth the added punch. 
Though I make all kinds of juices, The Green Hulk has been my all-time favorite and has given me the energy to write, blog, speak, travel, teach, and take care of a family. Want to feel like a superhero? No need to find a radioactive spider. Just team up with The Hulk.
Let's break down The Hulk's superpowers... 
Nutritional Benefits of Kale Juice
When selecting kale, the darker the better. Darker kale is far higher in nutrients. The Kroger Marketplace on E. Broad Street has some of the best I've seen. Kale packs a hearty nutritional punch and has very few calories. This leafy green is rich in antioxidants, vitamin K, vitamin C, vitamin, A, lutein, calcium, manganese, copper, potassium, iron, magnesium, vitamin E, omega 3 fatty acids, vitamins B1m B2, and B3, protein, folate and phosphorus. 
Stress has a way of burning through our B vitamins, and that's one of the reasons our energy levels drop. The Hulk is perfect for giving us the needed energy to run to the next terminal, bake all those holiday treats, or even power through miles of traffic jams. Kale juice is rich in antioxidants to combat free radicals that cause cancer, disease and premature aging. Want healthy, glowing, youthful skin? Then feed it what it needs. Beauty begins on the inside.
Benefits of Celery Juice
Celery juice prevents free radicals from damaging cells, combats cancer, and even halts the growth of tumor cells. This juice also lowers blood pressure and promotes deeper, more restful sleep, and who couldn't use more of that?
Feeling bloated? Celery juice is a gentle diuretic. Have trouble eating too much at the holidays? Who doesn't? Celery juice is a natural appetite suppressant to help curb those cravings to go calorie crazy.
Real Health, Raw Apples
Raw apple juice is high in vitamin C and vitamin A, which means prettier skin and healthy teeth and bones. The apple's peel is also rich in phytochemicals known to help prevent disease, fortify the immune system, ease inflammation, and protect against osteoporosis.
Love Me Some Lemons
Lemons are higher in vitamin C than oranges and only a fraction of the calories. Lemon juice is a potent antioxidant that also contains anti-inflammatory flavonoids to ease joint pain and supercharge your immune system.
Few things can ruin a holiday season like fatigue or illness. Team up with The Green Hulk and enjoy higher energy, deeper sleep, prettier skin, and a stronger immune system. Why wait unit January 1st for better health? The Green Hulk is a juicer away.
Embed this content on your website
Embed