{Thankful} In Mansfield: Week 2
Nov 14, 2012 08:40AM ● By Abbey Lewis
Full on into week 2 and the weather just hit a crisp morning, cool evening pace that I love! Nothing like starting the day with the fire going and ending the day the same way!! We curl up, we snuggle closer and I can't help but smile each time I put my slippers on!! I dig the change in seasons, even if here in the great state of Texas it's only a brief change!! I will take what I can get and appreciate every cool second we get until the next heat wave hits, ha!!! 
The weather affects my mood, as it does for most people even if they don't like to admit it! I get giddy for the first day of sweatshirt weather and I get antsy to walk barefoot in the grass and shed my jeans for shorts too! Our boys are the same way, they love to play outside but get grouchy if it's too hot to do so or too cold and need tons of layers to ride their bikes. Even though we may have more sweltering days compared to the cool crisp fall days, you can't deny that we get pretty lucky around these parts with the amount of good 'outside' play weather we get in Texas! And for that I am Thankful!! 
Here in Mansfield when it's a nice summer day or a cool autumn evening, one thing our family loves to do is go outside! We love all the parks that are here in town and hit them up every chance we get! With over 4 beautiful and well kept parks within in a short drive's distance of our home, our boys are always begging to go!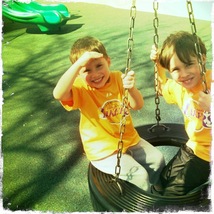 We walk the trails between Town Park and Rose Park. The boys speed on their scooters up to Linear Park and back! The Early Childhood PTA that I have been a part of for over 5 years loves to coordinate our playdates at various parks like, McClendon Park. There are just so many to choose from and all have different aspects to enjoy! If you love walking trails, hosting a party in a covered outdoor pavilion, chatting on shaded benches, watching the trains pass by, riding your bikes, or just climbing on the monkey bars... the parks in Mansfield are for you and your family!!!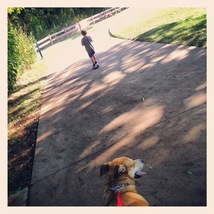 Go out today, throw a jacket on and check out one of the awesome parks in our town! You won't be sorry!!! My family loves the parks, we are thankful for the ease and safety that each one has to offer! Maybe one day we will run into you there?
Check out our city's website for a full listing of all the parks and recreational sites you can visit!! Get out there and enjoy the weather!! Hot or cold, being outside and active will always give you something to be Thankful for!!! 
http://www.mansfield-tx.gov/departments/parks/info/
What do you love about our city? Do you have a favorite park you visit with family or friends?? Share your thankfulness and tell me why you are Thankful for Mansfield!!!
Always - Abbey
Embed this content on your website
Embed