Holiday Hangover
Jan 06, 2013 09:49PM ● By Abbey Lewis
I don't know much, but I do know this... I am always exhausted after the holidays! Maybe it's because I am a joiner and I like to be at everything? Or because I have a huge, crazy, Italian family that comes into town and stays for 11 straight days and doesn't call it a night until at least 2am, maybe midnight on a boring night?! But either way... once January 2nd hits I can't seem to remember where December went!
The holidays are a great time of celebration. Families gather, friends find more reasons to see each other, and people in general just love the idea of being together! I know that the closeness I feel from the minute the turkey is cut at Thanksgiving to the clock striking midnight on New Year's Eve is something that I hold near and dear. Family traditions are and always have been the cornerstone of my upbringing. I adore the fact that our boys are getting to live out some of my most favorite childhood memories before my eyes every year... Putting on a Christmas show with their cousins and performing for all the aunts and uncles once the dishes are done, running around and playing hide-n-seek under the dinning room table while all the adults play Yahtzee, falling asleep on the couch in the middle of your entire family at midnight.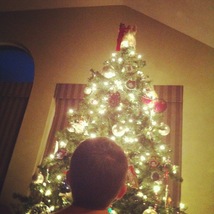 All those things are worth the sleepy daze that I walk around in the first week of January. Even though every year I feel more tired and find it even more difficult to recoup from, I wouldn't change a thing! Well... I take that back... I would change something, and I plan to change it this year even more so than I did last year! I am going to extend that holiday closeness, the want to gather those I love near to an 'all year long' theme, rather than holding off or slowing down January through November. I am not going to wait around for one fantastic 11 day stretch to pack in as much fun and laughter I can into my families' life! 
Last year I made a big effort to spruce up the every day specialness for my family. I cooked more 'at home' dinners. I planned fun family movie nights. I pre-planned meaningful Valentine and St. Patty's day events that not only made my heart swell but totally made my boys (even the hubs) giddy! So from that, I plan to build on and build up the fun times!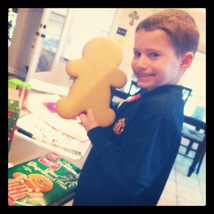 I know that life is busy. Time slips away without even knowing it sometimes. But before we realize it another Christmas season will be upon us and I want to go into it knowing that we made the most of the year that was given to us! Holiday hangover or not, making memories and savoring every moment our little family of 4 has together is on the top of my list of 'to do's' in 2013!!! So kick back, look at that Christmas tree one last time (unless you already took it down) and plan a little fun for your weeks ahead!!! Move into this new year with a meaningful step, and an open heart that is ready to make the most of the time that is given!!!!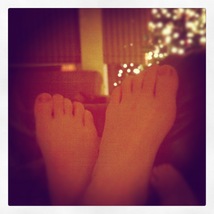 Here are a few of the special moments I am cookin' up for this year:
1. Backyard picnic dinner 
2. Moon walk/scooter ride
3. Make a family music video
4. Pay it forward day
5. Family ditch day/Where in the World is the Lewis Family?
6. Individual picture books for each boy as a gift
7. Mommy/Son date nights, Daddy/Son night out
8. Blessings Scavenger Hunt
9. Glow in the Dark dinners
10. Blast from the past movie nights
I am sure some of these things seem frivolous and silly, but that is the point!!! Simple events can be memorable too!! Thanksgiving shouldn't be the only day we gather to give thanks. Christmas isn't the only day to give gifts or rejoice in the grace of our Lord's birth. And Valentine's day is not the only day to hear someone say I love you!!! Every day is a gift, it isn't a guarantee that we will get another one!! Call your friends, invite your family over on a random Tuesday in March... don't wait!!! Create memories and share closeness every day!!
As I go through this year, I will post some of our family's random days of fun and I hope you will share some of yours with me too!!! Here's to 2013.... may it give you a sense of the holiday's, every day... minus the hangover!!!!
Always - Abbey
Embed this content on your website
Embed