10 Ways for an ADD Person to Be OOH! SHINY!…Productive
Jan 10, 2013 08:16PM ● By Kristen Lamb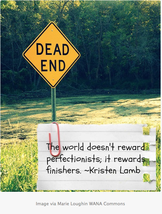 Recently, one of my pals asked how I somehow manage to get a lot of stuff done, despite my having the attention span of a fruit fly…with a bad crack habit. Here are 10 ways to help you be productive even if OOH! SHINY!
…even if you tend to be a tad ADD. The following tips are what help ME stay focused. I am NOT a doctor or psychologist or ADD expert. I'm a Jedi master, warp engine inspector, and WRITER so you get what you get.
1. Make lists.
I get distracted easily, so a list reminds me of what I need to get accomplished. I make separate lists—housework, fiction, non-fiction, business stuff, global domination using sea monkeys. Then, once I have the list, I do the hardest thing on my writing and business lists FIRST (housework can wait).
Like Covey says, Never mistake the urgent for the important.
2. Understand that feelings are pathological liars.
Writing/Being an Entrepreneur is a profession, not a playpen. Professionals ignore their feelings and do it anyway. Only children, amateurs and  The Long Island Medium listen to their feelings. Feelings are fickle, lazy, and secretly jealous of your work and a tad ticked that you no longer hang out with them as much as you used to. The secret to success is to work your tail off. Be willing get up earlier and stay up later than others. Be willing to do what others won't.
3. Use The Force…of Self-Discipline
Who cares HOW you get things done, so long as they get done?
I use the "Swiss cheese" approach. I have my list and I take bite after bite after bite until the work is finished. Every book can be written in 250, 500, or 1,000 word bites. I CANNOT work linearly, so I don't try and yes I was always in trouble in school but public schools were NOT designed to train people who get paid to play with imaginary friends.
4. Mix it up.
I am a writer, wife, entrepreneur, teacher, and mom who has yet to make enough money to afford servants (which stinks), and cats make lousy slaves. This means I get to do most of the cooking, cleaning, laundry and housework. Write your 200 words, fold a load of whites, empty the dishwasher, then write another 200 words.
5. Suck it up.
Understand that sometimes we will have to sit for a long time and focus. It's hard. Whaaaaaaahhhhh, but anyone who thinks being successful is a fluffy kitten dream has been hanging out with their feelings…and feelings lie, sabotage and will talk you into living on ice cream and cookie sprinkles.
6. Make mean friends.
Yes, the Swiss cheese approach works well for people with ADD, and yes, there are times we need to duct tape our tails to the chair. This is why I befriend really mean people who kinda scare me. On the surface they are funny and sweet and would do anything for a friend…but that's the issue. They will do anything for a friend, including ordering a hit on my X-Box 360.
7. Ditch loser friends.
We all have them or have had them. People who like to complain, make excuses, indulge in their feelings all the time. People who have a new dream every other week. I wanna be an astronaut, no a writer, no a horse jockey, no a journalist!
Ditch hanging out with coworkers, friends, or family who believe in luck, not work. Laziness, apathy, and whining are contagious. Treat excuses like EBOLA. A friend coughs blood excuses all over you, and, within two to three days, you start coughing up blood excuses, too…until your dreams of greatness liquify and bleed out and I hope you're happy with yourself.
Killer.
8. Forget perfection.
Perfection is an urban legend, started by Feelings (because Feelings are a needy boyfriend/girlfriend who don't understand the world does not revolve around them.) The world doesn't reward perfectionists; it rewards finishers. Often we lose focus on what we are REALLY doing, because we are getting sidetracked with nitpicking.
9. Exercise.
Often ADD can be fueled by being too sedentary. Human bodies were not designed to sit on their butts all day. Ever have a puppy that chews everything and is into everything and short of strapping itself to a rocket is just being a GIANT PAIN IN THE @$$?
How do you get it to behave? Put on roller blades and run puppy until puppy wants to slip into something more comfortable…like a coma. ADD people are human puppies, so stop piddling on the carpet…I mean, go get a little exercise and your focus will generally improve.
10. Drink lots of water.
Human bodies are a hydroelectric system, and water enhances conductivity. Cool ideas/thoughts work this way. Muse Pixies of Awesomeness are conducted through your brain to your fingers and they bring the cool story stuff. MPAs like to travel via fairy, or ferry on WATER. They can't travel if the waterways are too dry and moor them on a cookie sprinkle…and then you can't focus.
It's science. Don't argue.
Those of you ADD folk out there who've paid attention to this point, first of all, CONGRATULATIONS!!!
…now back in your hole.
It does the work or it gets the hose.
What are your thoughts? Struggles? Tips? Words of wisdom. It's okay. You have permission to get back in your hole after you comment 
 .
It rubs the elbow grease on. IT RUBS THE ELBOW GREASE ON! *pets fluffy white dog*
Embed this content on your website
Embed