Newly re-opened Cha Cha's in Mansfield
Jan 23, 2013 02:39PM ● By Michelle Ames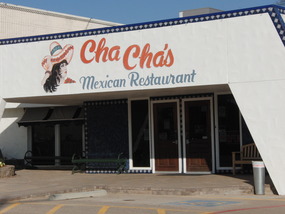 Do you remember last fall when Cha Cha's had a fire?  Everyone was talking about it.  I had never thought much about Cha Cha's, not having been there for years. Still, I hated seeing another long time Mansfield restaurant bite the dust, leaving in it's wake nothing but the ocean of chain establishments which are taking over the dining scene in town.  Once Cha Cha's announced that they would reopen after rebuilding and remodeling, I eagerly awaited their debut.  
They reopened on Monday, January 21st.  It seemed much of Mansfield had been eager, too, as the parking lot was filled during lunch and dinner.  We decided to wait a few days, and visited for lunch on Wednesday.  Although the front of the restaurant hasn't changed, the interior is nicely updated with a traditional "Rancho Texacana Grande" kinda thing going on.  That was my husband's definition, who is definitely NOT an interior designer, but it does describe it pretty well.  
As much as I love chimichanga's, which are on the menu, I passed them up in favor of the enchilada dinner.  I think a good enchilada is definitely the test of a Mexican restaurant, and I enjoyed mine.  I had the cheese, but next time I will try the spinach, because of the way the lady at the next table smiled after every bite of hers.  Yes, I had enchilada envy.  My husband had the beef fajitas.  The meat was extremely tender, and the homemade tortillas were VERY good!  
The biggest hit for our five year old was the tortilla machine.  The friendly waitstaff showed us how they were made, by first dredging the dough in flour, and then dropping it into the machine.  The dough came out flat and we watched as it worked it's way down the very HOT machine, browning and puffing it up.  It then climbed the conveyor belt until dropping in a stack of quickly depleted tortillas.  When he was given a sample, it made his day! 
Cha Cha's is located at Highway 157 N in Mansfield.  They are open daily, for lunch and dinner and also have a full service bar.  Our waittress told us the strawberry margaritas were delicious, so we'll have to try one next time with those spinach enchiladas!
For more of our Texas Adventures, visit me at my blog, Having Fun in the Texas Sun. 
Embed this content on your website
Embed