Skating in and around Mansfield
Feb 04, 2013 03:53PM ● By Michelle Ames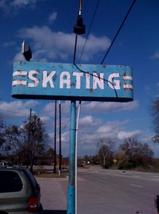 In a state where the weather changes more often than my daughter changes her clothes, the versatile sport of skating offers many opportunities for sunny days or cold and rainy evenings.  In the Mansfield area, we have some wonderful options for places to go.  
Arlington Skatium offers skating classes each Saturday morning at 10am and Wednesday evenings at 5:30pm.  Your first class is FREE, and each class following is only $6.00, and pays your admission into the public skate that follows.  On the first Friday of each month, they offer a preschool skate for littler skaters, or moms with children in strollers.  They even have PVC skate trainers to help those just learning!   And mark your calendars for Friday, February 15th for their Valentine Skate, when all girls skate 1/2 off!  
Feel the need for speed?  DFW Speed Skaters meets each Sunday at Arlington Skatium from 12-1pm for practices.  The team is comprised of youth and adults, and attends competitions with other teams around the metroplex.  
Walnut Creek Linear Park in Mansfield, which runs from Town Park to James McKnight, is approximately 4 miles of trail, perfect for skating.  The natural rise and fall of the trail makes for a great cardio workout, too!  
Arlington Parks and Recreation is offering an Inline Hockey Clinic on February 14th at their Elzie Odom Recreation Center at 1601 NE Green Oaks Blvd.  They provide all equipment, and will teach the basics of the game.  Preregistration is required.  The cost is $20 for ages 5-12.  They also offer a Youth and Adult Inline Hockey League, registration is going on now through Feb. 28th, and the season begins March 23rd. 
Cedar Hill Roller Rink is one of our favorites in the Metroplex.  This little rink has been around for generations, and is filled with regulars each week.  After 1 or 2 visits, you'll consider yourself a regular, too.  The rink's owner, Super Dave, plays nostalgic skate games like I played as a kid.  Don't expect glitz, just good family fun!  
The Goodlink Trail in Grand Prairie is 4.8 miles long, connecting Mike Lewis Park and C. P. Waggoner.  The wide trails and 270 foot bridge across Johnson Creek make for a fun outing!  
If you think skating is more of a spectator sport, then make the short drive to Dallas to watch an Assassination City Roller Derby match!  This all women teams play at the Fair Park Colliseum, tickets run about $15 and kids under 10 get in free.  
And here's some fun local trivia; Did you know that The Western Kountry Klub out on Hwy 287 use to be a skating rink in the 1950's and 60's? It was sold in the early 70's and converted into a dance hall?  Mansfield's Ace Hardware on Matlock started out as Millenium Skate Land, before going out of business. 
I hope that some of these options inspire you to get out and get rolling?  We would love to have you post your pictures or tell us about your favorite memories from your youth at the skating rink.  Thanks! 
When not busy lacing up my kids skates, you can find me at Having Fun in the Texas Sun, a Texas Family Travel Blog.  
Embed this content on your website
Embed