Enter to win one of 3 prizes from The Children's Place
Feb 11, 2013 01:23PM ● By Brian O
Enter to win a shopping spree and get a coupon to The Children's Place in Mansfield, TX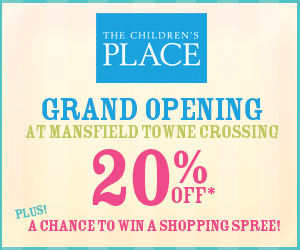 There is a new kid on the block! The Children's Place celebrated their grand opening at the Mansfield Towne Crossing on Saturday, January 26, 2013. To celebrate their grand opening, The Children's Place is giving away $250 in prizes.
Enter on Facebook for your chance to WIN one of three(3) shopping sprees & get 20% off* your next purchase just for entering!
1st Place $175 Gift Card
2nd Place $50 Gift Card
3rd Place $ 25 Gift Card
Be sure to spread the word. Get 3 extra chances to win when one of your friends clicks on the link you shared.
Enter by February 26, 2013 at 5PM. Winners will be announced February 27, 2013 on the Mansfield Magazine Facebook page and here at MansfieldMagazine.com.
Embed this content on your website
Embed