Show Me The LOVE!!!
Feb 14, 2013 09:29AM ● By Abbey Lewis
Today is the day... VDay! Whether is it a day you embrace or tolerate or skip over all together... it's still a day devoted to Love. Everyone has their own opinion of what Love is, what Love should be, and how they can and will show Love. No matter what your take on Love is, I say just show Love in all that you do and all that you are, every day and even more so on this day!!! Why? Because it just makes life easier. When you show Love it immediately brings joy and exudes happiness whether you want it to or not! And if it doesn't... take your Love and go give it somewhere else until you see and feel the joy that comes with it!!!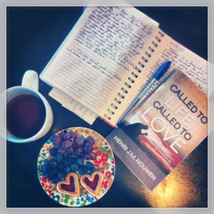 How do I show Love? I'm glad you asked... 
Just as with anyone, how I have showed Love has changed throughout my life. When I was younger I am pretty sure I showed Love by giving hugs and kisses, writing love notes, wishing upon stars, and drawing lovey dovey doodles on my homework. As I got older, and moved into the teen/college years I totally grew up and matured my displays of Love by chasing after boys, bending and twisting myself so that other's liked me more, wished and dreamt of a perfect love that accepted me no matter what and loved me and no one else! Sounds mature, right?!?! Ha! Seriously though... My perspective on Love has changed with every step I have taken in my life, and rightfully so!! I am just now to a point in my life that I have realized that the evolution of my Love is just as important as Love itself is in my life. More importantly I have learned that you have to give Love to get it and the more you give, the more you will get! Period! No if, ands or buts about it...
In our house we teach, preach and hold tight to the first lesson in Love ever taught... 'Love one another as I have Loved you' John 15:12. Even through happy times and not so happy times, this scripture brings it home for me... He Loved us first, no questions asked, no holds barred Love! And if someone Loves like that, giving so much and sacrificing for me so effortlessly, then surely I can too!!! So today (and every day)... go out there and reenact the 'Jerry McGuire' scene where Cuba Gooding Jr. is on the phone yelling at Tom Cruise!! Except don't yell "Show Me the MONEY!!!"... Scream "Show Me the LOVE!!!!
Happy Heart Day..
Always - Abbey
Go on over, show some Love, and visit our Team of 4 on my blog A Moments Peace :))
Embed this content on your website
Embed