Trashy Wreath
Apr 15, 2013 06:13PM ● By Brian O
Need a new wreath but don't want to spend $20? Got an old magazine and 20 minutes? Yes? Then let me show you how to rip out a new wreath for next to nothing!!! Here's what you will need:
Hay wreath from Michael's (under $5)
Glue Gun
Old Magazine
Old Shirt or fabric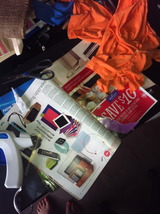 After collecting all your materials, just start ripping and folding and crumbling your magazine pages one by one and gluing them in a circular form around your hay wreath base. Once you get a bunch of pages glued onto the wreath, take a look at how full and the color patterns you are forming based off the pages you are tearing and glueing on. Decide how big, full, small or tight you want the pages by glueing them either close together or in a fuller fan form around the wreath! Once your wreath is complete, use the old fabric or shirt to make a strap or hanger for your front door.
It's that simple.... watch your fingers though! As you glue and press the pages on, the glue will be hot!! It takes a minute for the glue to cool and dry on the page/wreath!! Be careful as you press and hold the pages in place!! I have 4 blisters so far... haha!!
Blisters aside, it's easy, totally fast and inexpensive... give it a go!!! You can't rip and crumble wrong!! And who doesn't love a new wreath ;) Let me know if you make one... 
Always - Abbey
Embed this content on your website
Embed