Julien Feild Park and Serenity Gardens, Mansfield
May 09, 2013 10:48PM ● By Michelle Ames
On a recent Spring afternoon, my daughter, who has been having a hard time with the social complexities of 5th grade, needed a little "us" time.  We left my husband and sons with a big bowl of popcorn, and headed out for some girl time.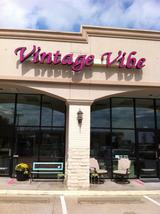 Our first stop was some browsing at
Vintage Vibe
, a fun, eclectic shop where everything has a wonderful, whimsical flair.  It's definitely not your mother's resale shop!  We looked at a few new pieces for her bedroom, and left with several picture frames.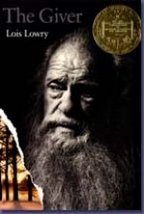 We next popped in to the
Mansfield Public Library
, to return some books and pick up something for us to read together.  She chose
The Giver
 by Lois Lowry, one of her favorite authors.  She's read it before, but it's nice to revisit your favorite stories when you are feeling unsettled in your own life.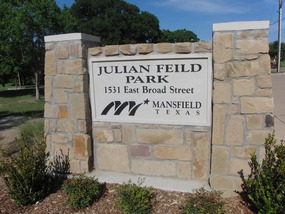 After picking up a couple of drinks at nearby Dairy Queen, we ended up at
Julien Feild Park
at 1531 E. Broad.  We spread the quilt from her bed under one of the large trees that are scattered around the park, and watched the wind rustle it's leaves as we each took turns reading a few pages.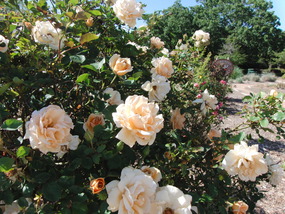 The first and oldest park in Mansfield,
Julien Feild Park
is named after one of the city's founders, and is a terrific escape from the crowds and noise of the city's larger parks.  The city recognized this and in 2001 added Serenity Gardens, as a "quiet place for reflection and remembering loved ones".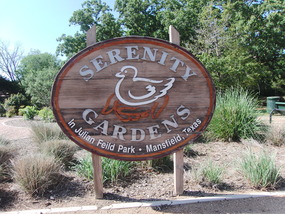 A small playground is perfect for younger children, who may feel intimidated at the larger playgrounds, and a picnic table and grill make a nice destination for a dinner in the park.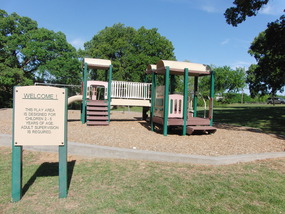 The park is bordered by a small wooded area and creek, near where we laid our blanket.  We watched for one of the red winged blackbirds which are suppose to live in the park. The males, who happily flaunt their colorful red and yellow wings, are what I like to refer to as "very photographic", always alighting atop something visible and calling out in their distinct call, "tonk-a-lee", almost posing for a picture.  Unfortunantly, we didn't see or hear one, but that's just a good reason for a return visit.  
It was a good afternoon, without spending time discussing her growing pains, but instead offering her an unspoken assurance that I am here for her.  
When not lying about under trees, I can be found writing at Having Fun in the Texas Sun, a Texas family travel blog, but you should probably look under a tree first.    Michelle 
Embed this content on your website
Embed