You're So Vein
May 15, 2013 01:15PM ● By Lisa Drake
Questions and Answers About Vein Disease With Thomas E. Eidson, D.O.
 Dr. Gordon F. Gibbs is the Founder and Chief Medical Officer of Trinity Vein Institute in Arlington, Texas, and Rocky Mountain Vein Institute's Colorado facilities. Dr. Thomas E. Eidson is the Associate Medical Director and Phlebologist at Trinity Vein Institute, and is Board-Certified in Family Medicine.
 Last month, Dr. Gibbs sat down with Dr. Eidson and spoke of vein disease - its symptoms, different types, treatments and who gets vein disease.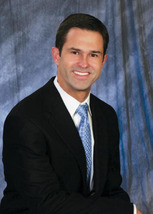 Today, Dr. Gibbs and Eidson expand on that discussion:
Q: Dr. Eidson, can you please explain who treats vein disease?
Dr. Eidson:  "A medical doctor who treats vein disease is called a phlebologist. A Diplomate or Fellow of the American Board of Phlebology (ABPh) is the highest specialty training and education specific to the diagnosis and treatment of venous disease. ABPh recognition is not required for providing vein care. A phlebologist can come from any general, surgical, primary care or specialist background. Phlebology training takes the best of a physician's training and focuses it specifically on the diagnosis and treatment of venous insufficiency. At Rocky Mountain Vein Institute and Trinity Vein Institute we are proud to have a team of experts with backgrounds in interventional radiology, family practice, ear, nose and throat (ENT), vascular surgery, and vascular disorders. All of our staff are active members of the American College of Phlebology and are outstanding in their field. We are the only Colorado practice with multiple American Board of Phlebology Diplomates."
Q: Can a conservative approach be used to treat vein disease?
Dr. Eidson: "Yes. Historically, patients with varicose veins were recommended conservative treatment options. Conservative treatment options refer to a non-invasive form of treatment, where medications and surgery are not used to treat varicose veins. Patients can make lifestyle changes, such as eating less, exercising more and wearing compression stockings. This regimen has proven helpful in reducing leg pain and further deterioration of the venous system. Conservative treatment will not remove existing abnormal veins, but it may be the treatment choice for patients that may not be able to undergo other treatment methods. There's no way to prevent varicose veins. But improving your circulation and muscle tone can reduce the risk of developing varicose veins or getting additional ones.
Q: Tell our audience, are there after-treatment concerns that can be addressed prior to deciding upon treatment?
Dr. Eidson:  "Venous disease questions, including after-care and concerns, are addressed in-depth in our initial, as well as during and after our care of all patients. Those wanting to know immediate answers to questions like, "How soon will my symptoms improve"? And "Is vein treatment covered by insurance"? can find those answers easily at both Rocky Mountain Vein Institute's FAQ and Trinity Vein Institute's FAQ web site pages."
And we have a warm, friendly, well-trained staff that can guide any callers through the initial stages of getting questions answered and setting appointments - it's all very easy and helpful. Just call our offices: 682.999.VEIN (8346)."
About Dr. Gordon F. Gibbs
The founder and chief medical officer of Trinity Vein Institute and Rocky Mountain Vein Institute, Dr. Gordon F. Gibbs is a Mayo Clinic trained interventional radiologist board certified in phlebology, diagnostic radiology and fellowship trained in vascular/interventional radiology. He is an active member of the American College of Phlebology and The Society of Interventional Radiology. Dr. Gibbs is also Medical Director of Diagnostic and Interventional Radiology at St. Mary-Corwin Medical Center in Pueblo, Colorado. For more information, please visit http://www.trinityvein.com/, send an email to info@trinityvein.com or call 888.730.VEIN (8346).
Embed this content on your website
Embed