Balsamic and Onion-Glazed Mustard Greens
May 19, 2013 12:53PM ● By Lisa Drake
Greens are plentiful this time of year; they are easy to grow at home and available at stores and markets.  Packed with fiber and vitamins and minerals, low-calorie, nutrient dense greens are no longer relegated to the 'cafeteria food' section of the vegetable isle.  Of all the many greens available, mustard is my personal favorite – probably because I like a little twang in every bite.  Coated with fresh onions in a balsamic reduction, these greens are a meal unto themselves when served with toasted pecans over rice.


Prepare your greens:
Wash and cut 4 cups of fresh mustard greens into bite sized pieces.  
Bring a large pot of water to a boil with a splash of white vinegar and small handful of sugar and pinch of salt.  Toss in the greens and cook until tender.  Depending on the age of the greens, this will be anywhere from 15-30 minutes.
While the greens are cooking, chop a small, fresh red onion (about ½ cup) and cook it slowly in a pan with ¼ cup balsamic vinegar.  As the onion becomes soft and clear, add water (about 3 tablespoons at a time) to keep the vinegar from sticking as it reduces.  
When your greens are tender, drain them and place them in the pan with the onions- stir gently to coat.


Toast your pecans:
Use ½ cup of halved or coarsely chopped pecans.  In a small pan, melt 1 tablespoon of butter.  Place the pecans in the pan and stir to coat over medium/high heat until they toast up golden and browned.  I like to add a hint of cayenne pepper and a pinch of brown sugar to season them.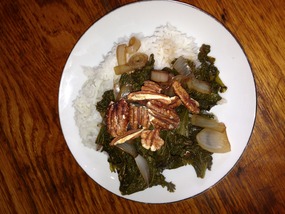 Serve:
Ladle a large helping of greens over rice or serve them plain in a bowl.  Top with toasted pecans as a nutritious side dish or main course.  Perfect with beans, blackeyed peas or any meat dish!
Article by Mary Phillips at Forgotten Works Garden Gallery
www.guardnplanet.blogspot.com
Embed this content on your website
Embed