Do You See What I See?
Jul 17, 2013 10:50AM ● By Lisa Drake
By Dr. Kyle Cooke, D.O.

Many parents ask us "How old should my child be when they get their first examination?" A good rule of thumb is the summer before they begin kindergarten or first grade, provided you are not noticing anything suspicious that a problem exists earlier than that (for example: an eye turn, squinting, holding reading material close in, frequent headaches, bumping into objects).  Sitting very close to the television could mean myopia – but it could also simply be something most kids like to do!
It is very important to note that many kids with problems may pass some school screenings. School screenings are quite useful and effective, but they generally will only catch a distance vision problem. A child could be significantly far-sighted and still pass such a screening test. A far-sighted child may have problems with reading comprehension, or complain of eyestrain and headaches with prolonged reading. What is really a vision problem can masquerade as a learning disability.
CORRECTION OPTIONS
The only realistic option for children under twelve is
spectacles
. Contact lenses require a greater level of maturity. There are many stylish frame designs available with kids in mind.
WHAT IS AMBLYOPIA?
Amblyopia, or "lazy eye," is generally a condition in which one eye does not see as well as the other, but not because of the presence of disease. Usually one eye is turning, and the brain is ignoring it to avoid double vision, or the prescription in one eye is significantly worse than the other.
The brain learns to "talk to" the eyes by age seven or eight. If we can catch the problem before then (and correct it), amblyopia can be avoided. The child may not be aware of the problem since the good eye "takes over" for them, or dominates.
Start the school year off right by scheduling a visit with your family eye doctor.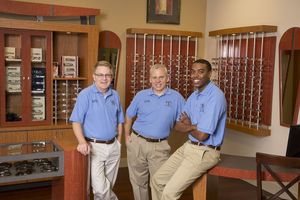 Let the doctors at
Mansfield Vision Center
take care of your family's eye care needs. Dr, Kyle Cooke, D.O. and staff are located in the Tom Thumb Center at Walnut Creek and Hwy 287 N. Call 817-453-4682 to schedule your exam. 
Embed this content on your website
Embed