Mama Knows Best
Sep 23, 2013 02:19PM ● By Lisa Drake
By Kerry Pipes
Sitting down to visit with Enrique Rodriguez it doesn't take long to understand how much he loves working in a restaurant. Sure it's a business, but it's a passion for him. "This is all I've ever known, for more than 30 years now and there's nothing I'd rather be doing," says the 49-year-old owner and manager of Mama Cuca's Mexican Cuisine, which opened in Mansfield this past March.
Mama Cuca's is a family-owned and operated business through and through - it's very moniker comes from Rodriguez's mother, who passed away just two years ago. Rodriguez's brother is the head chef and numerous members of his extended family work here as well, including sisters, nephews and nieces. It's all part of his plan to create a family-run operation that treats its customers like family. "I don't think of it as being in business just to make money," he says. "I'm most interested in serving my customers great quality food and getting to know them personally." It's his first restaurant to own and he's putting in the time and effort to make sure it succeeds.
Rodriguez honed his trade in Mexican restaurants in the metroplex. He's worked at places such as Café Acapulco and La Hacienda in Arlington. He says he's done everything from busing tables to managing operations. "It's been a lot of hard work to get to where I am today," he says. "I know Mexican restaurants, that's what I do and that's why I opened Mama Cuca's." If all goes well he hopes to open additional restaurants in the future.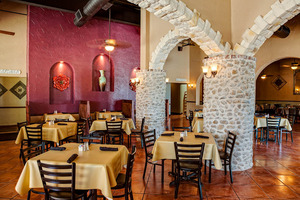 The Restaurant
Mama Cuca's took over the space that was previously occupied by Nelda's on Highway 157. Rodriguez spent time and money on significant remodeling and renovations to get the place just as he envisioned. The interior features large stone floor tiles, high ceilings and light brown and maroon paint schemes across stucco-style walls. Two large dining rooms offer a wide open feel and are dotted with black tables and chairs and matching yellow tablecloths. One of the dining rooms can be cordoned off for semi-private meetings.
The tastefully done décor features ornate iron artwork, clay vases, framed paintings and large arches that are etched with Austin stone. Traditional Mexican music fills the air and the uniformed wait staff eagerly attends to customers. There's no question that you are not in a chain restaurant.
Mama Cuca's is a full service operation where you are greeted by a hostess, seated and served at your table. There's a small patio outside for dining and drinking during cooler weather months, and a separate fully-stocked bar area inside.
Rodriguez is onsite every day and relies on two dozen employees to greet customers, prepare the food and serve patrons. "It's important to me for us to visit with our customers and really get to know them," he says.
The Food
Rodriguez is proud of his restaurant and especially proud of the food they offer. Lots of restaurants talk about using fresh ingredients but it's more than just talk at Mama Cuca's. "We don't prepare things in advance," says Rodriguez. "The ingredients are fresh and the food is only prepared after it has been ordered by the customer."
You will find typical Tex-Mex fare on the menu, but Rodriguez is careful to point out that they offer plenty of traditional Mexican dishes. They prepare their own corn tortillas fresh each day. The recipes are all proprietary and time-tested and the fully stocked bar offers everything from beer and cocktails to their own specialty margaritas – featuring flavors like mango, peach and strawberry.
Rodriguez was happy to have the kitchen whip up a few of their signature dishes for us to sample. The handmade corn tortillas were hot, fresh and fluffy, great on their own or for dipping into either of their two distinctive salsas. The first lunch treat was the Tacos de Mexico, which are served in traditional street taco style. They were filled with chunks of tender marinated fajita meat, onions, cilantro and fresh avocado. The meat was perfectly seasoned and gave a slight kick. Next was the Cuca's Pollo, a grilled and cut chicken breast served atop sour cream and a zesty tomatillo sauce. It offered a wonderful balance of flavor. We also had a chance to sample the beef fajitas. The tender meat, grilled onions and peppers would rank high on any fajita lover's list. Finally, came the Pollo Parrilla. This traditional Mexican dish offers a grilled chicken breast smothered in sautéed onions, mushrooms, tomatoes, bell pepper, and all held together with creamy, melted Monterey cheese.
If you're looking for a new spot to try for fresh and authentic Mexican food, Mama Cuca's is worth a visit.
Mama Cuca's is open Sunday through Thursday from 11:00a.m. until 9:00p.m. and Friday through Saturday from 11:00a.m until 10:00p.m. It's located at 2880 Highway 157, Suite 110 in Mansfield. You can check them out on Facebook or call 817-473-9857 for more information.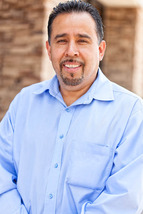 Q&A With Mama Cuca's Enrique Rodriguez
Enrique Rodriguez has been working in restaurants since he was just 14 years old. There's nothing he'd rather be doing, and as of this past March he fulfilled a dream by opening his own restaurant in Mansfield. These days the 49-year-old restaurateur is busy working long days at Mama Cuca's Mexican Cuisine (named after his mother). But he's got plenty of help from his brother, sisters, nephews and nieces who are all chipping in hours to help get the business off the ground. We sat down with Rodriguez one hot day last August to find out what makes him tick and about his hopes and dreams for his first restaurant. The father of two was happy to open up and share a little with us.
Q: What makes your food/menu unique?
A: Fresh, authentic, made only after ordered by the customer.
Q: Any new menu items on the way?
A: We just opened in March so it's too early to make any changes at this point.
Q: What is the most popular or most requested dish you make?
A: Pollo Parillo, Tacos de Mexico and Fajitas.
Q: How do you want customers to remember their experience?
A: Beyond quality food and great service, that they feel a real personal touch when they come here.
Q: What is your favorite type of food to eat?
A: Mexican, of course!
Q: If you go out to eat, where do you go?
A: There are many different Mexican food places I like to go to. I do like to cook at home but don't really have time for it.
Q: What are your other hobbies?
A: I don't have time for any hobbies. But I do love sports. Soccer is one favorite. I like to watch it but also like to play. I like to spend time with my extended family, many of them live around here and we like to get together.
Q: Do you have a favorite quote or advice you've received or given?
A: To treat others the way I want to be treated. And honesty is very important.
Q: What's the last book you read?
A: I don't read a lot of books. I do follow sports through the papers and various magazines. I also read some business magazines.
Q: If you had to choose another profession what would it be?
A: Probably something in sports, but honestly, I can't imagine doing anything other than being in the restaurant business.
Embed this content on your website
Embed