Holiday Decor - Creative Cranberry Centerpieces
Nov 11, 2013 02:20PM ● By Mary Phillips
Creative Cranberry Decor for the Holidays - Canning Jars with Berries and Tea Candles
Fresh cranberries are paired with everyday household items to create these three uniquely elegant holiday centerpieces.  Quick and simple, you can easily put together a stunning display for your table or mantle in just a few minutes – and decorating for the season is a great way to get the family involved in your holiday meal preparations!
Gather your supplies:
Two 12 ounce bags of fresh cranberries
Styrofoam balls – 4 inch diameter or less
Toothpicks
Fresh greens (we used rosemary)
Tea candles
Canning jars
Large glass bowl (we used a trifle bowl)
Candle sticks
Lemons and/or limes, whole pecans or walnuts
Fresh flowers
Assemble your masterpieces:
Floating tea candles with cranberries and greens in canning jars:
Choose a variety of canning jars in different shapes and sizes – as many as needed to create a display scaled to your table or mantle.  Fill each jar with water within an inch or two from the top.  Float greens and fresh cranberries in the water, and add a floating votive or tea candle to each.  Light the candles just before dinner is served.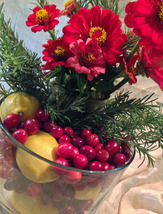 Trifle bowl floral centerpiece with cranberries and lemons:
Use a trifle bowl or other large glass container with a smaller glass vase nested inside it to hold a floral arrangement.  We simply placed a canning jar filled with flowers from the garden in the center of the trifle bowl, and then added lemons and fresh cranberries around the margin.  You might also want to add limes, pecans, walnuts, or other fresh fruits on hand.
Cranberry Topiaries: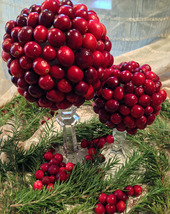 These gorgeous topiaries are created by using toothpicks (we broke ours in half) and Styrofoam balls.  Simply press toothpicks into each ball and then spear a berry on each.  One 12 ounce bag of cranberries will cover a 4 inch diameter ball, so plan accordingly as you design your centerpiece.  Place each berry-covered ball on a candlestick, using a variety of heights, shapes and sizes for added interest. 
Choose any or all of these projects for a fun addition to your holiday décor.  And when your meal is over, you can disassemble your work, rinse the berries, and store them to cook with shortly after! 
Embed this content on your website
Embed