Art Angels
Nov 15, 2013 11:15AM ● By Lisa Drake
Folk Art Angel
This holiday season you can adorn your home and garden with a few hand-crafted heavenly friends!  Here are three angel projects that can be made almost exclusively from found objects, and make a perfect family activity. Crafting your own decorations for the holidays is economical and allows you to personalize your creations to fit your décor. 
Having a family craft day with your children - or a scout troop, school group, or gathering of friends over holiday treats – will make lasting memories. Add your own personal touches to these decorative angels and they will be destined to become family heirlooms to be enjoyed for years!
WHIMSICAL FOLK ART ANGEL
This adorable angel can be made from objects found around the house and will look fantastic on a holiday table or as an outdoor accessory to a potted flower arrangement. If you don't have the exact materials on hand, improvise! Let the family participate by hunting for objects to use in your creations.
To assemble this angel, all you will need is clear plumbers adhesive, your chosen materials and perhaps an old scrap of heavy stock paper and scissors to cut wings. If you want to paint a face on your piece, you will also need some craft paints and small brushes.
Begin with your angel's base. We used an old crystal candlestick. An antique bobbin, a stack of wooden spools or any other long tapered object will do.
Apply a generous amount of adhesive to the top of your base, and place a 'skirt' shaped piece on top. Items such as a small Bundt cake pan, a small colander or old gelatin mold will serve nicely. 
Create a torso from a spool of thread, a tiny glass jar or other cylindrical piece. Attach wings to the torso with your adhesive, allow it to dry and then secure it to the skirt.
Make your angel's head from any spherical item and adhere it to the torso. We used a wooden craft ball and painted a face on ours, but it certainly isn't necessary – especially if you chose something elegant like an antique glass doorknob or a special holiday ornament.
When using wood or paper, be sure to seal your final product with some clear enamel before using it outdoors. Try making a collection of folk-art angels for a unique mantle or tabletop display!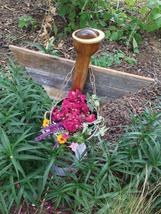 LARGE GARDEN ANGEL
You can create a beautiful garden angel using a variety of found objects and architectural salvage, some of which may be hiding in your garage or garden shed! Our angel was made with an old staircase handrail, found cedar fence pickets, a colander, some chain and a steel pipe scrap. The body could also be made from a shutter, an old column or a piece of ornamental deck railing.
To assemble your angel, you will need a drill/screwdriver and wood screws (or a tube of clear plumbers adhesive), a tape measure, and a saw to cut your materials to size. Often, home improvement centers will cut wood for a small fee if you do not own a saw.
Gather your materials and begin by attaching two or three pieces of old fencing to the back of your angel's body using one or two wood screws per board. If you are uncomfortable with tools, you can use a generous amount of adhesive instead. Be sure to measure the total desired length of the angel's wingspan before you cut, including the width of the body. For a wing-like shape, gradually reduce the length of each board.
Drape a length of chain, rope or ribbon around your angel's 'neck' allowing it to rest on the wings. Fasten the ends to any type of household container that will hold flowers: an old colander, a galvanized pail, a basket, a strainer/steamer or kitchen pot. Affix this with another wood screw if needed to keep it steady and in place.
 If your angel's body doesn't come with a 'head'-shaped top, create one from a scrap of plywood cut into a circle, a large wooden craft ball, a terra-cotta flowerpot or a metal pail.
Fill your container with potting soil and add some seasonal plants.
To make a halo, find or make a circle that will sit on your angel's head: a scrap of pipe (painted or raw), a small wreath and beads on wire are a few suggestions.
If you don't wish to 'plant' your angel in the garden by securing her in the soil, you can always attach a simple wooden base to the bottom, or simply lean her against a tree, a wall on your porch or in your home.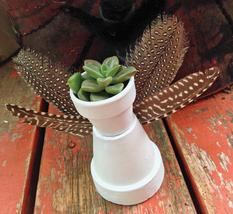 MINIATURE FLOWER POT ANGEL
Simple, natural and quick: miniature flowerpot angels can hold small living plants or be used with tea candles for gifts or holiday décor. Made from just five pieces (and paint if you desire), these tiny angels can be used indoors or out.
To assemble your angel, you will need clear plumbers adhesive, two small terra-cotta flowerpots – one just slightly larger than the other (we like the very smallest ones: just one and two inches in diameter) – and some feathers. You can plant a small succulent in the angel's 'head', or use it to hold a tea candle. A beaded halo can be added if desired.
If you want your angel to be painted, start by coating the outside of your larger pot, and both the inside and outside of the smaller pot. Allow the paint to dry.
Using plumbers adhesive, turn the large pot upside down and then secure the small pot on top (facing up).
Feathers make beautiful and natural wings. If you can't find any outdoors, they are available both online and at craft stores. Use adhesive to attach feathers (or other 'wings') to the back of your angel's body, just below the head.
Place a small plant (succulents work best!) or candle in the head. If you use a plant, you can add a halo created from beads on a small wire.
Whether you are looking to bring some celestial wonder to your garden or front door décor, create an attention grabbing table setting or are in need of gifts for teachers, friends and loved ones, your custom-made angels will bring a touch of sophisticated whimsy.
Mary Phillips is co-owner of Forgotten Works Garden Gallery. Visit her at www.guardnplanet.com or on Facebook 
Embed this content on your website
Embed