Raw Vegan Zucchini Wraps
Jan 20, 2014 12:07PM ● By Lisa Drake
A Special thank you to Heather Adams Buckley for this recipe! 
Marinade:
1 lemon, juiced
2 tbsp olive oil
1 tsp sea salt
1 tsp black pepper
1 tsp garlic powder
1 tsp vegan friendly ponzu, soy, or amino acid
The Nut filling:
2 cups cashews
1 clove garlic
1tsp olive oil
Lemon, just a squeeze
1 tbsp nutritional yeast
The Wrap:
2-3 zucchini
1 mango
3 jalapeno
Fresh basil
Directions:
1) Make up the marinade and set it aside in a large, rectangular container. Use a container large enough to allow for separation of ingredients (see step 3 below).
2) Prepare the filling. In a food processor, grind cashews to a fine texture. Add olive oil, garlic, nutritional yeast and a squeeze of lemon juice. If your cashews are unsalted, add a dash of sea salt. Taste your filling and add what you think it needs. Remember that the marinade has plenty of salt in it so go light on the filling.
3)  The Wrap: With a mandolin on the thinnest setting and every precaution you can possibly take to keep all of your fingers, knuckles, and toes ....slice your zucchini, mango, and jalapenos...length wise. You can do this with knife work but I can assure you, it's a beating (I've done it) and with the prep work and rolling...you'll thank me for urging you to use a mandolin. Once again, I warn you...don't think you've "got this handled" and not use the guard...I know plenty of people that have lost nails and fingertips...it's serious business so use the guards and save the leftover chunks of veggie for stir-fry and soups, ok?  Once you have your zucchini, mango and jalapeno sliced, place them in the marinade and coat them with it... be sure to keep them separated. Let sit about 5 minutes. Now you are ready to roll. I like to take about 5 slices of (paper thin) long zucchini strips and line them side by side, like an assembly line... then take a small scoop of nut filling, a piece of mango, jalapeno, and a piece of fresh basil to each of them, I start at the top of the zucchini strip... and then roll it up. Repeat. That's it. One note: I LOVE to top mine with a dot of Sriracha sauce.
Enjoy!
Light and blessings-Heather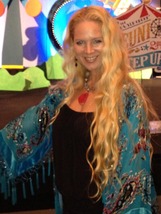 Embed this content on your website
Embed