Spinach and Squash Stuffed Portobello Mushrooms
Jan 20, 2014 01:37PM ● By Lisa Drake
Ingredients:
2 portobello mushrooms
1/2 cup shredded smoked gouda cheese  
Baby organic spinach
1 organic yellow squash (grated)
1 tbsp extra virgin organic olive oil (I use a basil lemon infused oil by Vibrante)
1 tbsp raspberry balsamic vinegar ( I use Vibrante's raspberry balsamic)
A dash of pink Himalayan sea salt (or regular sea salt will work)
Pinch of black pepper
Pinch of garlic powder
Juice of 1/2 lime
Oven at 350 degrees.
Directions: Prep your mushrooms by removing stems and gills (I use a spoon to remove gills). Do not wash the mushrooms. Line a cookie sheet with aluminum foil and place de-gilled mushrooms cavity side up-to be filled. In a large bowl: Add about 3 large handfuls of spinach, the grated yellow squash, olive oil, sea salt, pepper, garlic powder, balsamic vinegar, and lime juice. Mix well. Fill the portobello cavities generously (it will cook down) with the spinach-squash mixture. Top with shredded smoked gouda cheese. Place in oven at 350, uncovered, for about 35 minutes.
Enjoy!!
Light and Blessings -  Heather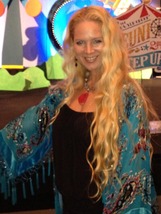 Do you have a favorite vegan/gluten-free recipe to share? Or would you like to see more recipes from Heather? Comment here and we'll respond. 
Embed this content on your website
Embed