Show Me Some Love - Simple Valentine's Crafts for Kids
Feb 12, 2014 07:46PM ● By Justin Wilkerson
Here are a few of our favorite Valentine's crafts to do with your kids. Hopefully they help you to get creative and really enjoy the holiday with your little ones. 
Heart Animals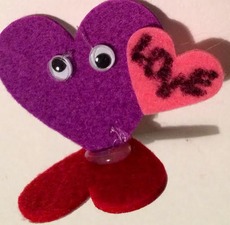 Using heart-shapes and various crafting supplies in the house, kids can get creative making little Valentine's creatures. 
Supplies:
Felt, craft foam or construction paper
glue
markers
googly eyes
ribbon, yarn, sequins, pom poms or just about any other craft supply your heart desires
Using different sizes of hearts, make the faces or bodies of different animals. For example, put hearts all in a row on a piece of paper. Add eyes, tentacles and legs and you have a caterpillar! Or, use a large upside down heart as a face. Add sideways hearts for the outline of the eyes. Use smaller hearts as the ears and nose. Add googly eyes and you will have the face of a raccoon!
'Stained Glass' Art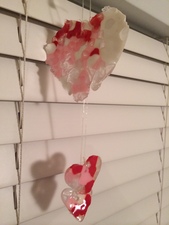 This art project is easy to do and fun for kids of all ages. Just be sure an adult helps with the oven. 

Supplies:

Non-stick baking spray
Drill
Preheat oven to 425 degrees . Spray cookie sheet with non-stick spray and place cookie cutters on the tray. Place enough beads inside the cookie cutters to fill the bottom of each. Parents:place cookie sheets in the oven for about 15 minutes or until the beads melt into that "stained glass" look. Be forewarned - melting plastic is a bit stinky. Once the beads have melted, remove the cookie sheets and cool. You should be able to remove your heart-shaped artwork very easily once they've cooled completely. Drill a small hole into the top each each heart and string together with twine, fishing line or ribbon. Use a hook or suction cup to affix to a sunny window and enjoy your stained glass masterpiece.   
Heart Wreath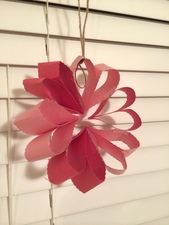 This craft is well-suited for preschoolers and takes very little time. 
Supplies:
Construction Paper
Scissors
Tape, Stapler or Glue
Twine or ribbon
Cut construction paper into 2" wide strips. Fold the strips in half and then using tape, glue (or a stapler for older kids) pull the ends into the middle crease where you folded it to make the point of the heart. Tape, glue or staple into the heart shape. When you've made an even number of hearts (we used 6 here), tape them all together in a circle to make a wreath. Punch a hole in one and string ribbon through to hang from a door or window. 
Embed this content on your website
Embed