Heather's Herbed Mushroom Chardonnay Risotto
Mar 20, 2014 10:47AM ● By Lisa Drake
Heather's Herbed Mushroom Chardonnay Risotto Topped with Jumbo Shrimp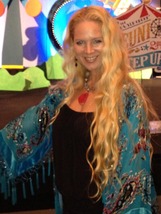 Ingredients:
1/2 onion minced 6 large button type mushrooms diced (you can use baby bellas if you like)
2 cloves garlic minced 2 cups rice (I used Jasmine because it is my favorite)
1 tsp sea salt - check flavor as you go and adjust as needed
1/2 tsp black pepper
Rosemary- if you are using fresh, a nice branch of it, remove the leaves and mince. If using dried, about 1 tsp.
Thyme- if you have fresh, use the leaves, a couple of small branches. If using dry, about 1/4 tsp. Sage- I used dry. 1/2 tsp
1/2 tsp garlic powder
1 heaping tbsp Earth Balance Soy free spread- you certainly can use butter, coconut oil, whatever you like...this is a finish for the risotto so whatever flavor you want as a top note, this will be it.
2 scallions, finely chopped
1/2 - 1 cup shredded Oaxaca cheese (for garnish) - I'm sure a smoked gouda would be amazing with this...I just wouldn't do a traditional cheddar or mozzarella
12-15 jumbo raw wild caught shrimp
Approximately 4 tbsp Grapeseed oil or coconut oil
1 bottle of good wine- I used chardonnay. I have made this with Merlot before and it was wonderful as well... the red wine makes the dish pink in color...the flavor is crazy good.
4 cups of water
1/2 lime
 Ok, so before I start with the directions I will tell you that I haven't been a risotto maker until recently because I always felt overwhelmed at the thought of making good rice much less something as "complicated" as risotto. This is NOT complicated, honestly. It does take attention and stirring but it is well worth the effort.
The main thing you are wanting to have happen is add liquid, stir until the liquid is absorbed without allowing your rice to burn (sometimes that means adjusting your heat for a bit) and add more liquid...it's that simple. I like to add the liquid 1/2 cup at a time and it seems to need that 1/2 cup about every 7 minutes. The wonderful thing about making this dish is if the rice is starting to stick, add some wine, that releases it. I alternate wine and water. This takes a good 30-35 minutes of adding liquid and stirring...but it's fun and like I said, SO tasty.
 At the end, if I'm not ready to serve the risotto right away and it gets thicker than I'd like, no big deal... turn the heat back on, add another 1/4 to 1/2 liquid and you are ready to serve. You'll know when it's ready by tasting/testing the texture of the rice. So here we go. Nothing to this.
Directions:
In a nice big pan add a couple of tbsp of your favorite oil (I don't use olive oil for this type of cooking because of the low smoke point... grapeseed or coconut oil are wonderful for this dish.) Once the oil is nice and hot, add your onions, mushrooms and garlic. If you are using fresh herbs, add them now. Let the mixture cook about 5 minutes. Your heat is med-high for most of this.
Next, add in your 2 cups of rice, dry. Stir it around and let it go for a couple of minutes then add your first 1/2 cup of either water or wine. I start with water because as the dish cooks and is absorbing, I like to save the wine for more of the sticking issues later in the process, but it really doesn't matter. I haven't had a risotto burn yet. Stir frequently.
As the liquid absorbs and the rice thickens, add another 1/2 cup of liquid. If you are using dried herbs, add them now along with the remainder of spices and seasonings. Keep adding your liquids as they absorb. Taste the dish and add more seasoning if needed. Keep going...this is so worth it...another 1/2 cup of liquid until you are satisfied with the texture of your risotto and that might mean a little extra liquid at the end with the heat off and add your heaping tbsp of Earth Balance or butter...stir until blended.
For the shrimp (this could easily be done with scallops as well, same way): No fuss to this at all. In a fresh pan add a couple of tbsp of oil. Get it nice and hot. Add your deveined, shelled jumbo shrimp to the pan. Let them cook on each side about 2-3 minutes, until pink. Add a light dash of sea salt, black pepper, garlic powder and juice of lime. Stir and take off heat.
To serve:
 Nice amount of risotto, top with shredded oaxaca cheese, sprinkle scallions, add cooked shrimp, one or two more scallion bits and you are done!!
 Enjoy and let me know how you like this! Peace, love and light!! Heather Buckley
Embed this content on your website
Embed