The Eyes Have It. LASIK versus Multifocal Implants
Mar 26, 2014 02:02PM ● By Lisa Drake
LASIK versus Multifocal Implants
Many patients ask us about the differences between LASIK surgery and Multifocal Implants.

Here we discuss the differences of each:  

LASIK uses a laser to gently reshape the front of the eye to correct a patient's refractive error.  If the patient is properly screened, LASIK will likely fully correct a distance vision problem.  However, the over-forty crowd in bifocals will still need reading glasses the rest of their life – unless they have it set up in monovision (one eye distance, one reading).  

Multifocal implants (Crystallens, ReSTOR, etc.) came along with the idea of correcting both distance and near vision, so that patients rarely if ever need correction for any visual task, close or far away.  The procedure itself is basically cataract surgery, which has been proven safe and effective over many years.  It's the implant design that's new.

This will give you a good idea of the main differences and pros and cons of each procedure:
LASIK
Pros: 
Proven procedure
Less expensive
Fast recovery
Very accurate 

Cons:
If over forty, will still need readers
Thin corneas not a candidate
Dry eye sufferer's symptoms may worsen
Very high corrections may not be candidates
MULTIFOCAL IMPLANTS 
Pros:
90% chance free of glasses
Thin corneas are no problem
Dry eye problems less of an issue than with LASIK
Even high corrections are candidates 
Patient with never have cataracts

Cons: 
Less proven than LASIK (newer technology) 
More expensive (double or more)
Activity more restricted for 2 weeks post-surgery
May occasionally still need readers for fine print
Many experience halos at night
More invasive thus greater risk complications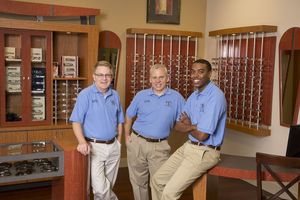 Whatever option you may be considering, the professionals at 
Mansfield Vision Center - Mansfield, TX
r can help you. 
Embed this content on your website
Embed