Egg-cellent Easter Table Decorations
Apr 09, 2014 05:32PM ● By Justin Wilkerson
Easter festivities provide an opportunity to inject some fun into table settings.  Whether you're preparing for an Easter brunch, an Easter dinner, or both, keep in mind  that décor doesn't have to cost a bundle to make your table look festive.  Liven up your setting with some of these suggestions as fuel for your creative gas tank as you decorate for the season.
1. Candy
Nothing is more fun than edible settings. And, with the deluge of Easter-themed candy on the market, it's easy to find something that you can put on the table to add a festive flair. Marshmallow figurines and candy grass can add a kid-friendly Easter tone while not taking up too much surface space, making it perfect for more compact dining arrangements.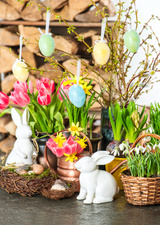 2. Flowers
Flowers symbolize the renewal of spring, and there are a number of blooms that come out around Easter time. Your local florist or grocer's floral department will have plenty of fresh tulips, Easter lilies, or even a colorful spring bouquet  to dress up your table and home.  
3. Napkin Folds
Consider folding your napkins into seasonal shapes. This is a simple touch that can add something very special to an otherwise overlooked element of table setting.  We found simple instructions for folding napkins into a bunny shape at http://www.wikihow.com/Fold-a-Napkin-Into-a-Bunny
4. Color
Remember that pastel hues of greens, blues, and yellows are appropriate around this time, and do wonderful as accent colors to a stark white table cloth. If you have colored napkins available or doilies you can theme very appropriately with little effort.
5. Themed Plates
Consider grabbing a set of bunny plates or other decorative plates that run with the Easter spirit. It can be easy and fun to grab a set of plates that really completes the Easter look, and they can be re-used for children's parties or other occasions where themed dinnerware is appropriate.
6. Decorative Eggs
Creating "cascarones" or decorated confetti eggs can be a breeze and involve the whole family for a fun and easy way to keep a meal special. Egg dyes are simple and hollowed out eggs take only a few days preparation to be dry enough to be painted. Once the eggs are painted, you can place them in egg holders as decorative pieces for your table that allow each member of the family to be involved in creating a memory.
7. Placemats
It's easy to create a simple Easter-themed place mat setting for each person with poster board bearing their name and an image of a bunny or Easter egg. Set out crayons or markers at each place setting and let everyone decorate their own placemat.  
8. Personalized Place Setting
Place cards make everyone feel special and create a festive atmosphere. Simply fill a ramekin with artificial grass and jelly beans or other small candy. Use a Sharpie to write each person's name on a colored Easter egg and place in the bowl. This decoration doubles as a parting favor.
What are your ideas for Easter decorating? Share them here or tell us if you have tried any of these. 
Embed this content on your website
Embed