Attend the Leadercast Event and Be a Leader Worth Following.
Apr 28, 2014 10:22AM ● By Lisa Drake
This one day event will challenge, inspire and help leaders in the Mansfield area improve leadership skills while also providing the opportunity to network with other leaders in the area. 
Leadercast exists to positively change the way the world thinks about leadership. This year's theme - Beyond You - challenges leaders to focus outward rather than inward. We ask you to join us for this
live simulcast Friday, May 9th
and discover what it means to be a leader worth following.
There are few opportunities that arise with the quality this Leadercast has proven to exert. With participants from across the country and covering every level of leadership, this is an opportunity not only to learn together but to help our many community leaders connect and network in ways that benefit us all — and especially benefit the community we live in.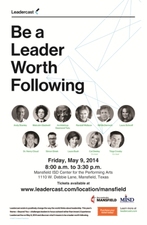 We are excited about the possibility of social, political and business leaders coming together for one purpose. Some of the speakers include, Laura Bush - Former First Lady, Randall Wallace - Screenwriter/Director and Archbishop Desmond Tutu South - Africa Social Rights Activist. It is a one-of-a-kind opportunity to hear this variety of speakers through one avenue.

We will be inviting non-profit organizations around the community to participate in the conference to share their purpose, mission and ways people can get involved with their organization to make a difference in our community.


Tickets are on sale now at
www.leadercast.com/location/mansfield
. The early registration cost is $65 for an individual or $55 per person for groups of 10 or more. We encourage you to get your tickets early. This is a great opportunity for you to invite customers, potential clients and your own team to learn about leadership together. There will be over an hour break to go to lunch and have a chance to spend time with the people you invited to this conference and discuss what you have learned and potential business.
If you have any questions about the conference or how you can partner with us, please email Leslie Waldson at lesliew@fmcm.org. 
Blessings,
Leslie Waldson, Community Life Director 

Randall Canedy, Leadercast Coordinator
Embed this content on your website
Embed