Ready! Set! Camp! Advice for Choosing a Summer Camp and a List of Local Camps
May 15, 2014 06:03PM ● By Lisa Drake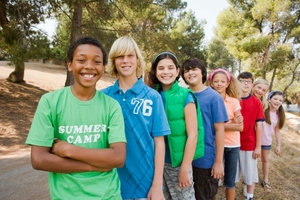 The final school bell rings and it's not long before parents hear the familiar phrase, "I'm bored!" We've got just the fix to keep the natives from getting restless. 
Local summer camps are an excellent boredom buster and provide much needed opportunities for children to experience new activities and explore interests. The American Camping Association provides us with some sound advice and information for choosing the right camp for your child to enjoy a summer full of fun and adventure.
How to choose the right summer camp for your child.
When beginning the camp selection process, consider your child's interests. It's important to know a child's personality and identify what camp programs will benefit him or her most. With a variety of programs and activities, summer camp offers fun and meaningful adventures to match a child's interests and maturity level.
Be certain to include your child in the decision-making process. Together with your child, explore the camp options and examine the materials the camps provide. In addition, many camps have web sites that include photos, maps or virtual tours of the camp facility, sample daily schedules and menus, and information about the directors and key staff. As children become better acquainted with the camp experience and more involved in the decision-making process, they will have less anxiety about going away to camp.
Think about what you want in a camp before you enroll your child.
Questions to Consider in Selecting a Resident/Overnight Camp
What locale do I want to consider? (consider, mountains, oceanfront, distance from home)
Do I want a traditional camp that gives my child a wide variety of experiences or do I want to select a specialty camp that focuses on a particular activity or set of skills?
What size enrollment will make my child feel comfortable?
How rustic do I want the camp to be?
How structured do I want the program to be? Does my child like to have lots of choice in the activity schedule?
Is my child ready to sleep away from home for an extended stay? This will help you to select either a resident or day camp setting.
What session length will appeal to my child and to our family plans for the summer? (One week? Eight weeks?)
How can I stay in touch with my child during camp? Does the camp allow mail, phone calls or e-mail? Does the camp have parent visitation days?
How will the camp meet my child's special dietary or physical needs?
What is my budget for camp tuition? Remember, many camps offer financial aid.
Questions to Consider in Selecting a Day Camp
Day camps offer experiences that are unique from resident camps. Because of this, there are specific points to consider when choosing a day camp.
What training does the staff receive on safety, supervision, counseling, problem solving and other issues unique to working with young children?
Is the price all-inclusive or are there extra charges for: transportation, overnights, swimming lessons, food services, horseback riding, group pictures, t-shirts, extended care, field trips, etc.
What is the camper-to-counselor ratio?
If transportation is offered, where is the closest pick-up location?
Does the camp have an "express bus" which transports children quickly?
If before- and after-camp extended care is offered, who is with the children and what activities take place?
Is lunch served or do campers bring their own sack lunch? Are snacks and drinks provided?
If the camp offers swimming, are there swimming lessons or is it simply recreational swimming?
Are campers in a group with a counselor all day? Or, are campers free to go from one activity to another with appropriate supervision? In this case, whom would you talk to if you had a question or concern about your child?
Is an open house offered before camp starts where you can meet your child's counselor and van/bus driver?
Are parents allowed to drop by for visits or is there a special parent visitation day?
Whatever type of camp you choose, there are options that cover a variety of ages, abilities and interests. Whether you're looking for sports, music, academic, half day or all day there are some great camps right here in our own backyard. 
Check out our 2014 Summer Camp Directory and choose the camps that are right for your family.
Are you interested in including your camp in the directory? Comment below and we'll send you the information to sign up. 
---
How to Choose the Right Summer Camp for Your Child originally published in part on www.ACAcamps.org. Reprinted by permission of the American Camp Association. ©2014, American Camping Association, Inc.
Embed this content on your website
Embed