Hot Dog! Cool Homemade Treats for the Family Pets
May 23, 2014 05:20PM ● By Lisa Drake
Everyone loves cool treats in the summertime - even your dog! Making homemade pet treats is not only fun and less expensive than store bought treats, but they're much healthier too. Grab the kids and make these in a snap. While you're on the patio enjoying a popsicle or ice cream cone, Fido (or Fluffy or Sassy) can join in on the fun with these pet-friendly frozen delights.

Peanut Butter Pops
·         1 cup peanut butter (we recommend organic natural peanut butter)
·         1 ripe banana
·         Ice cube trays (Any shape will do. However, there are a variety of novelty  ice cube trays on the market in all sorts of fun shapes)
Directions:
In a bowl mash up the banana and combine with peanut butter. Spoon the mixture into the trays and place in the freezer until frozen. When you're ready to serve, submerge just the bottom portion of the tray in water to loosen the cubes.
Pup-Sicles
·         Ice cube trays
·         ½ cup broth (we recommend organic low sodium)
·         ½ cup water
·         Cheese chunks*
Mix together water and broth and pour into ice cube trays. Drop a cheese chunk or two into each compartment. Freeze and serve!
*Other variations in place of or with cheese chunks are: meat such as cooked hamburger, liver or chicken, veggies or fruit chunks.
A note of caution! Remember, there are ingredients that can be toxic for dogs and cats. Review this  list of potentially harmful foods provided by  the Humane Society of the United States.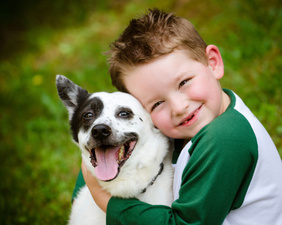 Does your pet have a favorite homemade treat? Share the recipe here – and even a photo of your furry family member enjoying their snack.
 
Embed this content on your website
Embed