Hold on Tight, Local Farmer Jules Cox Joins MansfieldMagazine.com as a Featured Blogger
Jun 23, 2014 03:31PM ● By Brian Ostrovsky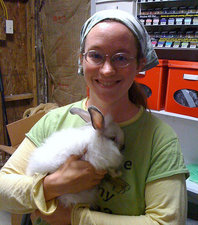 We're excited to introduce Jules Cox as the first of our new Featured Bloggers who will be contributing here at MansfieldMagazine.com. Jules and her Husband Curtiss run
Lazy Pi Farms
a 5-acre farm in Mansfield, she's also an avid writer and a huge fan of the Mansfield community.
Jules and I spoke last week about her upcoming adventures in writing for us to get to know her, her style and the type of content we can expect from her and I've shared the highlights below.
Please welcome Jules in the comments below, post your farming questions (or anything that you'd like her inquisitive mind to address), and help us spread the word about Jules here. You can subscribe to email updates in the sidebar to the right and
if you'd like to be considered as a Featured Blogger introduce yourself
.
Q. How long have you lived in Mansfield & what brought you here?
A. I moved to Mansfield with my family two years ago, all the way from Arlington. My husband and I grew up in Duncanville, so we didn't have far to go! Our families are all within an hour's drive or so, except for an outlier in Austin. Family is what has kept us here. As far as Mansfield in particular, we liked the schools, the community growth, the downtown area, and the price of land. Finding five acres anywhere in DFW can be a challenge!
Q. What topics do you plan to cover when writing for MansfieldMagazine.com? How would you describe your writing style (personality)?
A. I am interested in writing not only about our farm in particular, but about homesteading skills and projects, animal husbandry, and the hilarity of life in the "country" with animals and children underfoot. Future topics may include spinning yarn, the surprising intellect of some sheep, drama queen goats, riding a donkey, fencing adventures, beekeeping, beginning gardening, hatching baby chicks, low-impact insect control, using native Texas perennials in landscaping, and how to convince a little green minivan to do the work a pickup really ought to do.

My writing style is straight-forward, concise, well-organized, humorous, occasionally irreverent, and often drifts into hyperbole and imagery. I tend to dream big, far beyond the scope of what is actually possible, but my small size and health problems quickly remind me what I'm actually capable of doing. And when I am not convinced by aches and pains, my husband issues a gentle reminder that I am, alas, just human.


Q. How did you get into farming (etc)?
Around 2009, I decided on a whim that it was terribly important that I learn how to spin yarn. I believe this came from a conversation about the (surely impending) zombie apocalypse. I found Mea Stone, who raised Angora Goats, and met her and her goats at her farm, which was at that time in Keller. She sold me some fiber from her goats (mohair.) By the end of 2010, I was completely obsessed. I leased a pasture in Kennedale and bought me some sheep. In 2012, we moved to our own land, and I was so thrilled to have our animals right outside the door! I love spinning yarn from their beautiful wool, shearing their fleeces twice a year, and seeing the new lambs and kids in the spring. It's hard work, but it is good work.


Q. What's something people usually assume about you / your farm that's completely wrong?
They usually assume that I'm very feminine, and/or comfortable with a traditional gender role. I'm really not; it's taken a long time and a lot of emotional work for me to come to terms with staying home with the kids. The farm work has been a great big step in the right direction in that respect. I only pretend like I have it all together.


Q. Which of your animals is your favorite & why?
I could list almost any one of our animals as my favorite for one reason or another. I guess I could say Donkey Oatie is my favorite. She is our livestock guardian and alarm system - she brays whenever anyone pulls up to the house! She's sweet, calm, gentle and beautiful. I want to train her to ride! Then again, maybe Bonnie is my favorites, a Jacob sheep, because of her beautiful black wool, her impressive four horns, and her robust health. No wait, Doileag is my favorite, one of my original Shetlands and a wise old girl; I love her huge fleeces, her sassy attitude, and her twin lambs that come almost every year. No wait, Hickory is my favorite, our little bantam mama hen who has hatched tons of eggs for us, and loves to sit in my son's lap and watch television. No wait, Summerlin is my favorite, a white Angora doe who runs up to me for scratches and treats, and gives huge bright white fleeces in tiny, soft ringlets. No wait ...


Q. What's your favorite farming saying? (I'm assuming there are many, I personally golf and there are lots of golf sayings - most somewhat ridiculous)
My favorite farm saying is, "We are blessed with work." There is always work to be done on a farm. Fix a fence, mow, cut limbs, trim hooves, give shots, shear, get someone unstuck, check the water, fix the door, replace a gate, mend a tire ... it's never-ending! Even more so than just household maintenance, everything on a farm needs attention sooner or later. Sometimes it's overwhelming. When I feel flustered or frustrated, I repeat to myself, "We are blessed with work." I am lucky to have this life. It is good that I have work to do, that it's fulfilling work, needful work. It does my heart good.


Q. Anything else we should know about you, your farm, your family etc?
I write some fiction as well, and links to my published pieces are on my website. Fair warning, they're trashy romance. It's not everyone's cup of tea, but hey, neither is farming. 

Introducing Featured Blogger Jules Cox [12 Images]
Click Any Image To Expand
Embed this content on your website
Embed