Group Spotlight: The Real House Mamas of Mansfield
Jul 09, 2014 07:45AM ● By Brian Ostrovsky
One of the many fun Real House Mamas of Mansfield activities
It's hard to be a parent and making the decision to stay home with your kids is both rewarding and daunting. The danger of going hours without saying a single adult-sounding word lurks around every corner. Fortunately there are some great local groups that help moms get out, build relationships and foster community.
The Real House Mamas of Mansfield (
see their Meetup.com group here
) is a growing local group of women started by Kristyn Rowney in 2012 after moving to Mansfield from Austin and realizing, "Hey, I need friends too."
Kristyn spent some time helping me understand the group, the people involved and the various activities they put on throughout the year. You can sense Kristyn's passion as she says, "This group was designed to bring stay at home moms together for mom time, play dates for the kids, family events, community events. We designed the group so we could get to know one another one a personal level and have the chance to build a friendship. These ladies have become some of my absolute best friends. We have all become like family. "
How large is the group currently?
"Here we are, about to start our third year with the group and we currently have 85 ACTIVE members and 53 on the waiting list!"
That's a big waiting list, what are some of the challenges you face in running a large group like this?
"We are a very active group, and we plan to stay that way. We initially wanted to keep the group on the smaller level, however we love the new moms we have met! Where we run into problems is at our in home play dates. Unfortunately not everyone's home can hold 20+ people....or even 15+.....and this tends to upset some ladies. So, we are working on how to fix this issue at hand and will hopefully be open to everyone by the end of summer. As of right now, We are adding more and more each week because our numbers are growing rapidly. We do want everyone to feel welcome!"
You mentioned you get a lot of help, who is involved with leading the group?
"Brooke Baker, Debi Donaho and Melissa Hladik are phenomenal women!  Without their help, this group would not run so smooth!  However we would not be a group without all our amazing House Mamas!"
What is the emphasis of the group, in terms of the activities themselves?
We spend the majority of our time focusing on the kids, but we enjoy our Mama time too. We have a Bunco group and play each month, MNO-Moms Night Outs dinners complete with dinner and drinks (kids at home of course!), painting parties, craft nights of making wreaths, wine glasses and we even do couples nights and family nights.
Be on the lookout for Yoga under the stars, Kids boot CAMP, Dinner for the Ronald McDonald House...
What sort of activities do you do with the kiddos?
We have some great play dates!  It seems that for the first time, our group has hit a BABY BOOM and we have wee ones!  We do have our 2 and under play dates....keeping the big guys out so the mamas can talk and focus on the little tykes. We have your park play dates, splash/pool time keeping us cool during the summer.  We frequent the trampoline parks, museums, indoor playlands  or we keep it casual with in home settings.....yes, we've had 20 (give or take....on average) mamas AND THEN YOU ADD KIDS!  When we do our in home play dates, we all come with food!  Everyone brings something to snack one and we have a big variety of fruits, veggies, crackers, sweets, drinks.....we have a few cake bakers in our group so we get a bunch of goodies!  
In addition to the casual get-togethers tell me a little about the more formal events and activities you put together.

Farmers Market - We set up a farmers market.  Each mom signed up to bring a fruit/vegetable of their choice and the kids were able to walk through and "shop" the Mansfield Moms Farmers Market.   


Halloween Party - This event was for Everyone!  Everyone came dressed in costume, we had games/stations, bounce house, clown, face painting, balloon animals, piñata, food, drinks......I could go on and on.


Volunteering at Mission Arlington - Starting at a young age, we are trying to teach our children what volunteering is all about.  The task here was putting together Thanksgiving baskets.
What child doesn't love Angry Birds?  We themed an entire play date around this!  Yes, we threw balls at boxes and made our foods look like those darn birds. =)


Many of us have traveling husbands, so we get together for a monthly "themed" potluck dinner with the kids and watch a movie that coordinates.  We may have a Cajun night and watch The Princess and the Frog or during the Olympics we had foods from around the world.


Kentucky Derby Party - Hats, Seersuckers and Mint Juleps. We brought the derby to us!
We love to give back! We enjoy taking our children to the fire station as much as they love attending and giving THE FIREMEN baked goods.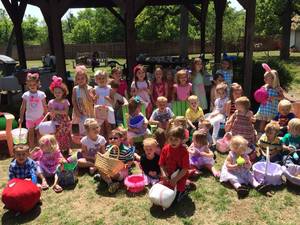 Annual Easter Egg Hunt Complete - with the Easter Bunny himself.
Honor Flight DFW
is another event our group was able to take part of. As our Moms wrote letters and our children decorated and colored them, we were able to express our gratitude towards the amazing service men and women of WWII. 
Honor Flight DFW
is an organization dedicated to transporting WWII veterans to Washington DC to visit memorials and tributes in their honor. 

Our group has done a few things with Bethesda Gardens - Retirement Community in Arlington.  The kids really enjoy this!  This past Valentines Day, we had scheduled a meetup to take flowers to the residents of this community. A local realtor here in Mansfield heard what our children were doing and donated the money for the flowers.  The residents had grins from ear to ear!

Now you know a little more about The Real House Mamas of Mansfield, if you are a Mama in Mansfield or know one reach out they'd love to hear from you.
Here are what a few members have to say about the group:
Jamie Dye Sanity! With a little chaos thrown in
Melissa Pohlmeier-Hladik If I didn't find this group, I truly don't think I would have found the courage to put my career on hold! This group gives me sanity in my day, moms who take me at face value and know my struggles day in and day out and a great group of kiddos for my girls to connect with!
Trinli Cypher Milliorn I know I'm new (ish) to this group of moms, but never once have My son and I felt out of place or un welcomed. The meet ups, and MNO's are ones I look forward to, and I've met some of the sweetest moms who's friendship I cherish.
Danielle Knopp Cichon I love being able to connect to other moms who are going through the same struggles and joys of mommy hood as I am. We can laugh at and give each other advice without judgement. Only being in the group a short time and already I feel I have formed friendships for a lifetime.
Jane Haba We are a sisterhood of moms, who came together to watch our children grow, make sure their childhoods are full of wonderful memories. We rely on each other, support one another, we dont judge, because we know what it takes to make it through the day. We are close knit circle of moms and kids and I am so thankful to be a part of this group!
Tessa Morgan Hodges Personally- this group is my family! I don't have any around here and with Chance working away so much, I "need" the play dates, the MNO, etc for my sanity. I joined meetup for C- so she could gain friendships and being around other children- but I never imagined I would need it more than her. I never expected I would benefit more from it than C- we have both gained friendships that will last to eternity!
Cynthia Villagran Joining such a wonderful group of moms and kids has been a blessing. Moving 7 hours away from family wasn't the easiest thing. But the transition has been easier since meeting so many great moms and their kids. The group is more than just moms attending play dates, it's about the bond and friendship that most have also made. So glad to be a part of this great group!
Misti Biondi Griese Being a local my entire life I never thought I "needed" to join a group. However, after quitting my job and becoming a SAHM I attended a couple of play dates because my neighbor invited me. I quickly realized how wrong I was. My kids have made friends and more importantly I made true friends. The ladies in this group are my rock and are always there for me and my family.
Melissa Rhoads- Jaquez This group is adult conversation and friendship with people who can easily relate and grow together. We laugh, cry and listen to our kids yell together. It's real life fun.
Lynn Mahle Hupp After my husband left active duty military and we headed to the "civilian world" I never thought I would find a group of friends that I could bond with so quickly. Boy was I wrong! This group has really made Mansfield feel like home for us. Not only have my girls made lifelong friends but, so have I. We all know we can count on each other for anything!
Barbie Del Toro McAnalley Extremely blessed to be a part of such a supportive group of mamas! This group had such a positive impact on me (and my family) while being on bed rest for almost 12 wks! Looking forward to more adventures ;)
---
Are you involved with a group, local organization, business or cause that you'd like us to Spotlight? If so, we'd love to hear from you. First, take a look at our web editorial calendar then contact us to introduce yourself.

The Real House Mamas of Mansfield - July 2014 [14 Images]
Click Any Image To Expand
Embed this content on your website
Embed