Introducing Todd Kaufmann Featured Blogger
Jul 14, 2014 02:46PM ● By Brian Ostrovsky
Todd Kaufmann and his wife Kerri
Todd Kaufmann is an avid sports fan and has been sharing his passion with readers since 2008. You may recognize him from his
sports podcasts
which have been featured here on MansfieldMagazine.com for a few months but we thought we'd introduce you to the man behind the voice.
Todd shared some of his background with us and now we're sharing it with you.
How long have you lived in the Mansfield area & what brought you here?
I moved here in 2008 from San Diego, California after getting a job offer I couldn't turn down. What I didn't know at the time was God not only moved me here for a job, but eight months later I would meet the woman who would become my wife.
What topics do you plan to share with us here at MansfieldMagazine.com? 
I'll be covering most sports around the Dallas/Ft Worth metroplex which may, and could, include the Texas Rangers, Dallas Cowboys, some college football as well as some high school football as well.
My writing style is more along the lines of the way I think. When the reader clicks on one of my articles, I want to feel like they're having a conversation with me. I want to explain the topic, make my points, and keep you entertained along the way.
How did you get into covering sports?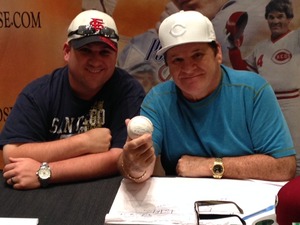 The first time I became a member of the "media," it was in early 2008, I was covering the Frisco RoughRiders, the Double-A affiliate of the Texas Rangers. You would have recognized some of the names who were there at the time. Guys like Elvis Andrus, Matt Harrison, and Derek Holland just to name a few.
Sports, to me, has always been something I've called "for the love of the game." I've never wanted attention, I've never wanted the spotlight. I just wanted to do something I love to do because I loved to do it. I would love to be able to do this as a full time job for one reason -- because I could say "I love going to work every day." See, for the love of the game.
What's something people usually assume about you / covering sports that's completely wrong?
The one thing people assume about me is this: anything bad I say about any of the Texas teams is because I'm an outsider. Yes, I'm a proud born and raised California kid, but I won't blow sunshine up the skirts of teams I rooted for growing up and I'm certainly not going to do it here. If I believe it, I'm going to write it or say it on the podcast.
Which sport is your favorite / least favorite?
I played basketball growing up and loved the game as a player. Haven't been a huge fan of the game because of how much the NBA has changed since the days of Magic Johnson, Michael Jordan, Larry Bird and a host of others. I'm also a big time baseball fan which is ironic for what I'm about to say about
my least favorite sport -- soccer
.
It's not that the game has a huge international following and I know how much the fans here in the United States get into the World Cup every four years. The problem I have with the game is the guys flopping all over the field, errr, pitch, grabbing their leg and pretending they just broke it. Only to see them get up with no problem whatsoever. I just think the game should be played the right way and I just don't like that part of it at all.
What's your favorite sports saying?
"Got his hand caught in the cookie jar." -- the late, great, Chick Hearn
Anything else we should know about you, your writing, etc?
California will always be a part of who I am, but I've fallen in love with Texas and the I'm completely in love with the Texas girl I married. This is the state, God willing, that we'll always call home and I look forward to raising a family here.


We hope you feel like you know Todd a little more now, why don't you welcome him to the Mansfield community in the comments below? I'm sure he'd also love to hear your sports passions, pet-peeves, as must-reads.
Introducing Sports Blogger Todd Kaufmann [7 Images]
Click Any Image To Expand
Embed this content on your website
Embed