Oliver Nature Park Provides the Perfect Venue to Connect with Nature
Jul 15, 2014 08:15AM ● By Brian Ostrovsky
Oliver Nature Park is a Mansfield city park that is devoted to nature education and nature appreciation which held their grand opening on January 25th, 2014. The 80 acre park features different ecosystems such as forests, prairies, and riparian areas.  
Nature Education Specialist Sam Kieschnick with Mansfield Parks and Recreation was generous enough to fill us in on the beauty, serenity, and educational opportunities the park presents to the community.
Visitors come to the park to connect with nature through exploration of the roughly one mile ADA compliant crushed granite trail. Unique features of the park include a treehouse overlook, wildflower areas, two ponds, a natural amphitheater, and the rocky ford that showcases some fascinating exposed geologic formation. They remind visitors to stay on the trails, the park is home to many different plants and animals, and by staying on the trails, we keep them and ourselves safe.
There are many public programs (programs require registration) and field trips that focus on nature education. Upcoming programs are listed on 
www.olivernaturepark.com
.
The park is open year round like the other parks in Mansfield and it's free to enjoy - no entry fee.
Park hours are:
5:00 AM - 9:00 PM March - October and
5:00 AM - 6:00 PM in November - February.  
The nature park shows the signs of the seasons more so than any other park in Mansfield! In spring, bluebonnets and other wildflowers paint the ground with so many colors. In summer, grasses become more dominant and sway with the winds in the prairie. Trees change their colors and lose their leaves in fall and winter, as the animals prepare for colder weather. Each season provides new forms of life to explore at Oliver Nature Park.
What is your favorite thing about the park and its programs?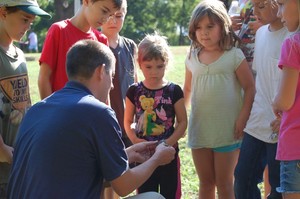 My favorite aspect of the park is the abundance of teaching tools!  I work primarily with children on field trips and programs and the park is filled with little lessons.  We always find bugs or interesting little plants.  At each of the areas, we also do little activities.  We listen to as many different kinds of birds as possible on the treehouse overlook, we look around at the different trees in the natural amphitheater, we discuss and examine rocks and fossils by the rocky ford, and smell and feel different flowers in the wildflower areas.  We're also doing bio-surveys throughout the park.  So far, we've documented 303 different species of plant and 54 different species of birds.  The park provides a lot of opportunities for citizen scientists to document the different organisms they see. (more info on "how people can get involved" below)
What are some of the fun or off-the-wall questions people ask you?
Working with kids, I get a lot of fun questions and answers.  Kids always ask about alligators or crocodiles at the pond (we don't have any).  Last week, we were discussing birds and their coloration.  Male birds typically have bright and showy colors to impress the females.  Females tend to be more drab in order to camouflage themselves and the nest.  One little boy commented that there are many more female birds than male birds -- "this gives the male birds more options of girlfriends."
Are there any updates or new developments that we should be aware of?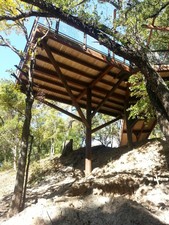 The grand opening was the first of three phases.  The second phase includes the extension of walnut creek linear trail from McKnight Park all the way to Joe Pool lake -- another 2.7 miles!  The third phase includes a nature center and an outdoor learning lab near the treehouse overlook. There's quite a bit going on in the parks of Mansfield!
The park provides the perfect venue for visitors to connect with nature. The tagline of the park sums it up -- "Educate. Appreciate. Preserve." Hopefully people will learn a bit each time they visit the park. After they learn something new about nature, I think they will start to appreciate it more. The more they appreciate something, the more they want to protect and preserve it. So, by learning and appreciating nature, they'll want to preserve nature!
We offer quite a few programs and nature walks at Oliver Nature Park.  Some of these programs have specific themes, like bugs or wildflowers or geology.  Other programs like night hikes and nature walks are guided tours of the park.  These are listed on 
www.olivernaturepark.com
.  People can register online or at the Mansfield Activities Center.  We also do field trips for schools and other groups. Contact me, 
sam.kieschnick@mansfield-tx.gov
 for more information.  Pricing varies by group size and program length.
Something else that we're doing at the park is citizen science.  We are documenting biodiversity at the park -- all of the different plants and animals found at Oliver Nature Park.  We are using programs like iNaturalist, an online database/network of citizen scientists, to upload pictures of plants and animals.  These add to a global database that monitors all of the species on earth!  It's a really fun project and we have several folks that are participating.  

Have you visited to Oliver Nature Park?
What was your favorite part (or what did your kids most enjoy)? We'd love it if you share pictures in the comments below.
Oliver Nature Park - July 2014 [19 Images]
Click Any Image To Expand
Embed this content on your website
Embed