More About the South Arlington Sprouts Opening September 10th
Jul 15, 2014 03:34PM ● By Brian Ostrovsky
An example of what you can expect at the new Sprouts store in S. Arlington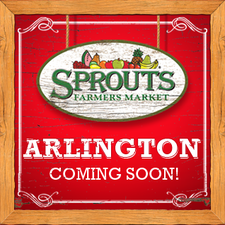 There's been a lot of buzz about the new 
Sprouts Farmers Market - Arlington, TX
 opening on September 10. This is the fourth of four stores opening in Texas during a four month span and
they're looking to hire 100 full and part-time employees in the Arlington store
alone.
We know many of our readers may not be familiar with Sprouts Farmers Market so we thought we'd reach out to the company to get the inside scoop. Sprouts doesn't just offer speciality products but everything you'd expect to find at a healthy grocery store including on-site butchers to help customers with special cuts of meat or seafood or homemade burgers and sausages. It seems clear the Sprouts experience will be both unique and reminiscent of yesteryear's market.
Sprouts was founded in Arizona in 2002 and has been a fast growing retailer boasting 170 stores in 9 states. Sprouts merged with Henry's Farmers Market / Sun Harvest Farms in April 2011 and 
The following is what we learned from Megan Dean, a company spokesperson.
Tell us a little about the store that are readers may not be familiar with, what is most unique about stores compared to competitors?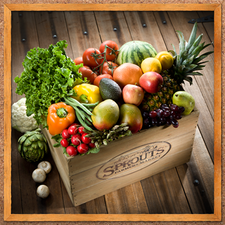 Our focus on value continues to drive more everyday customers to our stores looking to eat healthier. Our goal at Sprouts is to attract the everyday grocery shopper that is shopping at traditional supermarkets.
Unlike most natural food retailers we're highly promotional across the store, which creates value. We stand behind our strong "Healthy Living for Less" branding, which reflects a strategy that has helped us capture a large portion of shoppers who now realize they can live a healthy lifestyle at an affordable price.
Can you tell us a little about why you chose South Arlington to launch a store? What about the area seems to be a good fit for you?
Arlington demographics represent the traditional Sprouts shopper –  and middle to upper-middle income residents. We have been eyeing the opportunity for a while, and are excited to bring affordable and natural foods to the area.
What are some of the challenges you face as a new retailer in a market?
The two biggest things we tackle every day at Sprouts are "I don't know where to start" and "eating healthy is too expensive."
To help eliminate these barriers, we provide heavy education with QR codes throughout our stores, social media, educational videos, and health and wellness webinars. Our team members also go through rigorous training to ensure they can answer questions about our products. In addition, our stores are set up to be non-intimidating. We feature clear sightlines across the store to ensure shoppers can locate a team member if they have questions. 
We strongly believe eating healthy doesn't have to be expensive. At Sprouts, we offer fresh, natural and organic foods at affordable prices. As I mentioned, we're highly promotional. In fact, more than 1/3 of our store is on promotion at any given time.
Anything else we should know about the company, the new store, the team, how people can get involved etc.?
We are opening September 10. We will host a preview party on September 9 for Facebook fans to get a preview of the store and vendors will be there giving out samples. 
We will also be opening three additional stores Hurst TX on 8/6, Spring TX on 8/20 and Cedar Park on 8/27. 
---
The South Arlington store (5711 W. Interstate 20 Hwy. Arlington, TX 76017) officially opens Wednesday September 10th and 7AM and is hiring for the following positions:
Department Managers and Assistant Department Managers (Grocery, Produce, Deli, Meat, Bakery, Vitamins and more) 
Clerks – all departments 
Cashiers 
Administrative Coordinators
Receivers
Apply at
sprouts.com/careers
---
What do you think? Are you looking forward to shopping at Sprouts?
South Arlington Sprouts July 2014 [8 Images]
Click Any Image To Expand
Embed this content on your website
Embed