Group Spotlight: Arlington Nutritional Optimists
Jul 23, 2014 08:07AM ● By Brian Ostrovsky
Just before leaving to have the LVAD removed. In gallery below, you can still see Tom's equipment bag sitting to the right of him.
There's so much about our modern lives that contributes to poor health from a sedentary lifestyle to working on computers all day to the air we breath and the food we eat.
Arlington Nutritional Optimists
is a group dedicated to better health through a systematic and repeatable process.
We spoke with the group's organizer Thomas Martin who, shares from his own experience on the group's description:
"I reversed my own heart failure even after having been given odds of only one percent that I could make it happen. Along my journey I learned a lot about true healing of the body... There are answers to almost all common chronic health problems, but you need to be willing to take responsibility for your body's and your diet."
Tell us a little about the group, can you tell me when and why you started it?
I actually picked up Arlington Nutritional Optimists from the founder. After only one meeting he decided to drop out and it seemed to be a good fit for my objectives.
Five years ago, at the age of 50, I was diagnosed with heart failure and told I would need a heart transplant. I had been healthy my entire life and the doctors were unable to explain to me why it was happening. So, I refused a transplant but was also dying so rapidly that something had to be done.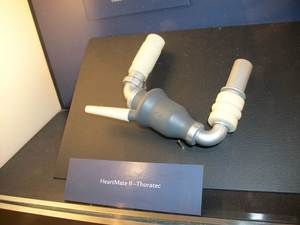 It was decided to implant a left ventricular assist device (LVAD), this is the same mechanical pump implanted in Dick Cheney while he was waiting for a heart to become available. His implant was about three weeks after mine. The LVAD restored my blood flow and from there I decided to find answers to my heart failure.   went down a holistic/diet-based path and my heart began healing rather rapidly. I read obsessively, developing a rather large database of knowledge of holistic health. Fifteen months after my LVAD implant, the device was surgically removed. The odds at the time of that happening were only one percent. I wrote about my journey and path to wellness in my first book,
One Percent: My Journey Overcoming Heart Disease
. As I spoke to groups about my ordeal, people kept asking questions as what they should do to reach optimal health. I then came up with a step by step plan and condensed it into my most recent book Just Do This One Thing:  A Guide To Chronic Good Health. I now speak to groups, blog and consult with people to help them overcome chronic illnesses, especially those which have been met with little success by allopathic doctors.
This group is my attempt to bring this information to others, helping them to reach one percent or chronic good health.  
What are your goals for the group and where do you see it heading? What sort of activities will you focus on?
My goal is to reach as wide an audience as possible, letting people know that they always have health options.  They should never listen to their doctor when he encourages them to give up and give in to their illness.  There is almost no ailment that cannot be overcome.  
My objective is to work through my second book [during our Meetup group meetings] in an attempt to make the steps seem easier and to eliminate objections that people have making health changes in their lives.  
Why do think people have such a hard time getting and staying healthy?
I think, in general, one bad assumption people have about health is that answers to health problems must be difficult to be effective.  I write about this in my book that even going back to the Old Testament in the Bible there are references to those rejecting healing advice because the answer seemed "too simple."   The answers to many chronic health issues are actually quite simple.  
What is your personal favorite aspect of the group and your mission?
I just love being able to give people hope and actual solutions, especially to those who have either given up or those who have suffered needlessly for years with chronic health problems.  I love the look on their face when they try two or three simple steps and start seeing and feeling results immediately.  
What's something people don't generally expect to hear you suggest?
Many people are stunned that I advocate drinking and that I regularly drink raw, whole milk.  This seems to make people quite uncomfortable. The usual question I get is "What does it taste like?" As if it would taste like anything other than milk!  
I am also surprised at how shocked people are when I tell them I make my own yogurt.  People have no idea that these traditional, nourishing foods can easily be made by themselves and do not need to be purchased at a store.
Are there any regulatory concerns or considerations about some of the things you suggest?
Laws regarding raw milk are constantly in flux.  The Obama administration is especially disturbed by producers and sellers of raw milk.  There are often raids on farms and the farm's inventory is dumped or destroyed before it has even been determined if any laws had been broken.
Fortunately, there is a great wave of enlightenment and people are pushing back and demanding organic raw food products.  
How can people get involved?
My objective is to continue meeting monthly on the third Thursday of the month at the 
Elks Lodge - Arlington, TX
 on Pioneer Blvd.  You can learn more about our last meeting:

Thursday, July 17, 2014 | 07:00PM
We'll explore the relationship of good gut health and overall health, especially relating to skin and autoimmune diseases. We will go into more detail about the wonderful ferm...
Read More
---
You can check out Thomas' website at 
www.OnePercentHealth.com
, he is available to speak to any interested groups. Please contact him through his website for available dates and post any questions you have below in the comments.  
Arlington Nutritional Optimists - July 2014 [5 Images]
Click Any Image To Expand
Embed this content on your website
Embed