Nonprofit Spotlight: Girls Inc of Tarrant County
Jul 29, 2014 08:25AM ● By Brian Ostrovsky
Some of the Girls at Made to Code
Girls Inc & Made to Code - July 2014 [8 Images]
Click Any Image To Expand
Girls Inc. of Tarrant County - Arlington, TX
 inspires all girls to be strong, smart, and bold through life-changing programs and experiences that help girls navigate gender, economic, and social barriers.
Director of Development Amy Resor gave us some insights into Girls Inc. of Tarrant County and their recent
Made to Code Kick-off Party
for girls 12-18.
Girls Inc. takes a holistic approach to working with girls starting with a research-based curricula, delivered by trained, mentoring professionals in a positive all-girl environment equip girls to achieve academically; lead healthy and physically active lives; manage money; navigate media messages; and discover an interest in science, technology, engineering, and math.
Who does Girls Inc. of Tarrant County serve?
We serve girls ages 5 – 18 throughout Tarrant County. We partner with schools, community centers, libraries, churches, and other entities for program delivery. During the school year we are a part of the curriculum at some schools and have after-school programs at other schools. During the summer we offer summer SMART (Science Math and Relevant Technology) Camps.
How did Girls Inc. come to be?
Most people don't know that we were formerly the Girls Clubs of America and that when they merged with the Boys Clubs to become Boys and Girls Clubs that we decided to stay gender specific and changed our name to Girls Inc. People might assume that we are like Girl Scouts. We are not membership based and our curriculum is nationally developed and researched.
What's your favorite part of your work?
I love the empowerment and that we have a "can do" attitude. We have amazing programs and people that deliver them. Our events like our Celebration Breakfast,
the College Shower
, and the Day of the Girl allow us to share our mission with the community and engage them in participating in our mission and success.
Given the number of girls you work with and the ages of the girls it must be a lot of fun. What are a few fun or funny stories you can share?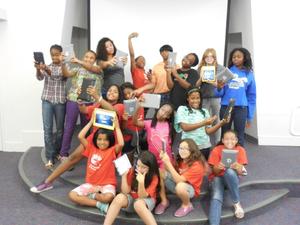 We all have so many stories! It's one of the best parts of working here. I remember when I first started I went to teach an art lesson at an elementary school. I wanted the girls to make a self-portrait using only words or phrases clipped from magazines. It couldn't be about their physical appearance, but who they were on the inside. One girl called me over to help her. I asked if she needed help cutting or finding words. She said "No. I need to find out how I'm going to fit all of this (signaling to her self) on that little piece of paper!"
One of my other favorite stories is about one of our scholars. She started out as a painfully shy girl that was terrified of speaking in front of people. She was a part a team that created a business idea and competed against other Girls Inc. girls across the country. Their team was a finalist and they traveled to New York to present their business idea to business women there to see who had the best idea. Their team won. She received a $20,000 scholarship from the national organization last year. She is now attending TCC [Tarrant County College]. She has been with me to a speaking engagement and brought everyone to tears. She has also started working for the agency as a program facilitator. This once shy girl now knows that there is no limit to what she can accomplish.
I have talked with girls as young as 12 that know exactly what career they want to pursue and have total confidence that they will achieve their goals.
How is Girls Inc. and the work you're doing being received?
We are growing. Last year we served 10,899 girls. We were selected as the Arlington Chamber Nonprofit of the Year and just received the National Outstanding Affiliate Award. We are receiving funding and support from places we haven't before and are always looking to forge new partnerships.
Tell us a little about the organization itself...
We are a small staff. Those 10,899 girls were served by a full-time staff of 13. Half of those are in the field working directly with the girls. The rest of us are admin positions in the office. We rely on a very strong intern program and volunteers to help us reach so many girls. We are always looking for new partnerships and support. We were founded in 1976 in Arlington and while we have roots in the Arlington community, we are very involved in Fort Worth and serve girls all over Tarrant County.
Switching gears, the Made to Code event looks interesting, how did it go and why did you put the event on? 
This was a project that was started by the National organization and their relationship forged with Google. We are one of the larger affiliates and we are usually eager and willing to participate in new initiatives. We have a lot of girls that are interested in pursuing careers in technology and we were proud to offer this opportunity for them. Our goal is to have as many girls that are interested in fields like science, technology, engineering, and math to have the confidence to pursue those careers.

We are scheduling several Made with Code coding parties.


Why are movements like Made to Code important?
Girls have been hesitant to get involved in things like this in the past. These fields are typically male-dominated. And when women do get these jobs they make a fraction of what the men who hold the same jobs make. We want to change that. We want to give girls the skills to flood the market and achieve equal pay for equal work. Our coding parties, being gender specific, allow girls to be comfortable in the learning environment and focus on learning.
Embed this content on your website
Embed