Jacob's Well is a Swimming Hole Like No Other 3 1/2 Hours South of Mansfield
Aug 05, 2014 08:08PM ● By Brian Ostrovsky
The view from above Jacob's Well
Jacob's Well - August 2014 [7 Images]
Click Any Image To Expand
South of Mansfield in the Texas Hill Country lies a most unusual natural water feature. Perhaps the original source to the phrase "swimming hole" (probably not but definitely representative).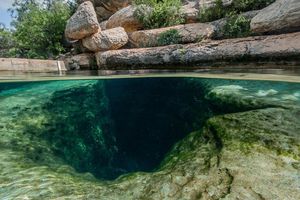 Just north of Wimberley is
Jacob's Well Natural Area
, a growing hotspot for adventure seekers or people who just want to check out an unusual geological feature. According to the Hays County Parks Department Jacob's Well is "an artesian spring, pushed forth naturally from the Trinity Aquifer roughly 140 feet below the surface."
Yep, that hole is about 140 feet deep and is connected to the underlying cave structure which result from thousands of years of "slightly acidic rainfall" eroding the limestone rock.
Swimming is allowed though there are no lifeguards on duty and pets, smoking, drinking and - yes -
jumping from rocks are not allowed according to their parks flyer
 but that last one doesn't seem to be well enforced.
Article main image and photos in gallery were found on the
Jacob's Well Natural Area Facebook Page
.
Have you been to Jacob's or do you have a favorite swimming hole? Share your experience and a picture if available in the comments below.
Embed this content on your website
Embed