First 2014 Case of West Nile Virus Diagnosed in Tarrant County
Aug 06, 2014 11:56AM ● By Brian Ostrovsky
Flickr Creative Commons
On Monday, a patient in Crowley TX was diagnosed with the first case of the year with West Nile virus. In 2013 the first case was diagnosed in late May, Tarrant County and the
City of Mansfield Mosquito Control
have worked actively to prevent cases of West Nile.
West Nile virus comes in two varieties, the less severe version referred to as West Nile Fever and the more severe strain West Nile Neuroinvasive Disease.
Nearly 4 out of 5 people who are affected show no symptoms and those who contract the less severe strain generally recover on their own within a few weeks though the more severe strain cause disorientation, muscle weakness, neck stiffness, coma and paralysis. Last year there were two deaths in Tarrant County from West Nile.
Things you can do to prevent West Nile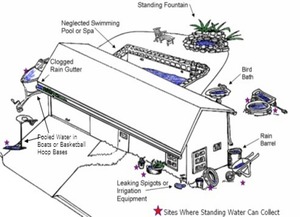 Mosquito's thrive around standing water and are most active at dawn and dusk.
Replace standing water such as bird baths and pet water bowls every 2 days
Remove debris from rain gutters to keep water from accumulating even in the summer
Keep swimming pools well cared for
Avoid over watering lawns, again to prevent standing water
Ensure proper irrigation throughout your property
If you have ponds include mosquito eating fish
These and more tips can be found on the
Mansfield's Mosquito Control
page. You can also find more information about mosquito control efforts on their
2013 Mosquito Surveillance Program
, the images in this article were found in this presenation.
Embed this content on your website
Embed