Tri-Schools Road Improvement Project Causes Road Closures with Expected Completion August 2016
Aug 15, 2014 04:27PM ● By Brian Ostrovsky
The following is a message from the City of Arlington for parents, staff, and community residents near Carol Holt Elementary, Cross Timbers Intermediate, and T.A. Howard Middle School:
As part of the Tri-Schools Street Improvement Project currently underway in south Arlington, a one-way counter clock wise traffic detour is scheduled to begin Saturday, August 16, 2014.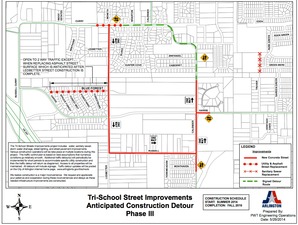 Road closures and detour
According to the Public Works & Transportation department, Ledbetter Road will be southbound only from Curry Road to Russell Road.  Russell Road will be eastbound only from Ledbetter Road to Calender Road. Calender Road will be northbound only from Russell Road to Harris Road.
The detour circulation route is northbound on Calender Road from Harris Road to Curry Road, heading west on Curry Road to Ledbetter Road and south on Ledbetter Road and back into the one-way detour circle.
This detour is expected to be active roughly for the next two years. Around November, there may be a section of Ledbetter Road between Curry and Harris closed to through traffic in addition to the remaining one way restriction. An additional street closure will be made at that time.
The Tri-Schools Road Improvement Project began on June 9 and is expected to be done in August 2016.
This project, which is part of the City of Arlington's 2008 bond, is one of 16 major public works and water utility upgrade projects totaling as much as $80 million scheduled to roll out over a two-year period.
Embed this content on your website
Embed