A Notice for the Proposed Mansfield City Property Tax Increase Has Been Posted
Aug 19, 2014 12:33PM ● By Brian Ostrovsky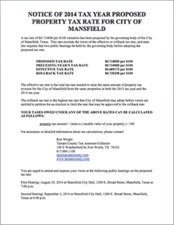 A new tax rate has been proposed by the governing body of the City of Mansfield, Texas. By state law this increase requires that two public hearings be held by the governing body before adopting the proposed tax rate.
The tax rate has been increased to raise the same amount of property tax revenue for the City of Mansfield from the same properties as the previous year per the Notice to the right.
You can calculate the property tax owed as follows:
property tax amount = (rate) x ( taxable value of your property ) / 100
For assistance or detailed information about tax calculations, please contact:
You are urged to attend and express your views at the following public hearings on the proposed 
tax rate: 


7:00 p.m.
Texas at 6:00 p.m.
Embed this content on your website
Embed