Mansfield Cares Feeds, Provides Medical, and Supports the Economically Challenged in Mansfield
Aug 21, 2014 12:01PM ● By Brian Ostrovsky
Lisa Stewart at Mansfield Cares ...
Mansfield Cares
 began in 1999 with the goal of providing grocery store food vouchers to people in need during the holiday season. Since that time, the organization has grown to include 20 board members who come from all walks of life and give freely of their time to see that we make the Mansfield area a better place. 
Mansfield Cares Mission Statement:
To provide assistance for the economically challenged families in the Mansfield Independent School District area, with the help of community agencies and a group of individuals with a common interest, offering charitable events to our community's greatest contributors...YOU. 
We talked with Lisa Stewart, the President of the Mansfield Cares board, to learn more about the organization and where they're heading.
Who are you most looking to impact with your efforts and how do you identify them?
Our beneficiaries are our less fortunate neighbors within the Mansfield Independent School District. We serve children, the elderly and/or anyone who has fallen on hard times. They are referred to us by area churches, other charitable organizations and by word of mouth. Our board members are very well known and connected throughout the Mansfield community and needs are brought to our attention often. Partnering with organizations like Common Ground, Harvesting International and the Wesley Mission, Mansfield Cares effectively impacts more and more families every year. 

Once you hear about someone in need, what happens next?
When something needs to be done, we creatively come up with ways to get the job done...no matter how costly, how complicated or how time consuming. We provide clothing, shoes, food and school supplies for the back-to-school program, and even scholarships to graduating seniors for college. Assistance is provided for necessary home improvements and short term living expenses for the elderly or displaced.
The 
Mansfield Women's Club Caring Center
 dedicated and named in 2012 was formerly known as the Linda Nix Family Caring Place, which originally opened in 2009. It has become a vital part of the Mansfield community, providing medical, dental and optometric care. We helped rebuild an historic outreach church in rural Mansfield in an area that had no church. The outreach program provides food to children throughout the summer months and helps fund the backpack program which provides weekend food for children throughout the school year.
How is Mansfield Cares funded?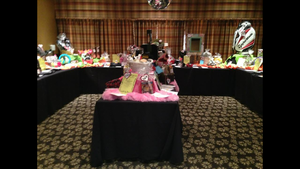 Although we couldn't exist without donations from private and corporate sponsors, we hold one fundraising event each year. This is our annual charity ball which I have had the honor of co-chairing for the past two years. This is an eagerly awaited and well attended event for Mansfield families and businesses. This extravaganza includes a gourmet dinner, both a live and silent auction featuring over 200 items, and sometimes a casino and other fun games. Funds are raised through ticket sales, sponsorships, and auction bids.
Many people assume that only a portion of funds acquired are channeled to those in need. In actuality, all the work is done by volunteers so 100% of the net proceeds go right back into the community for assistance. All board members are unpaid, however, we do enjoy the reward that comes in the form of smiles, tears of joy, and relief we see on the faces of those we are able to help.
My favorite aspect of the work we do is the ability to see the immediate impact on the community. We see the results and hear the stories that affirm how important and vital our work has become.

In addition to The Caring Place, tell us about your other long-term projects?
One of our most recent successes, is the completion of a two-year long project - The Mansfield Women's Club Caring Center. This is the new home of Harvesting International Ministries, an area food bank that provides food to those in need and supports area food pantries. Through the generosity of 
Grossman Design Build, LLC.
, who designed the building and oversaw its construction, Stoney Short of Posse Construction and Mansfield Custom Homes, and the many subcontractors who either donated or substantially discounted their fees, we were able to complete this beautiful facility. With this addition, Harvesting International has been able to bring in even more food and expand their reach...and Mansfield has retained a valuable asset in the fight to end hunger. In addition, we have expanded our reach through social media. People can donate via our website and connect with us in the following ways...
Our newest endeavor is working with the Mansfield Rotary Club to build a community garden behind the Mansfield Women's Club Caring Center. Phase 1 is expected to have ten (4 x 8) feet raised beds for individuals or groups to plant and maintain gardens starting next Spring. A portion of the crops from each bed will be donated to the Harvesting International Food Bank to supplement the wide variety of food they provide to those in need every day.


A little about Lisa Stewart
Lisa grew up in Fort Worth, attended Nolan Catholic High School, graduated from Texas Christian University with a degree in business administration then earned a Master of Arts degree in Dance at Texas Woman's University. For some 19 years she taught dance for studios, high schools and churches and has held many diverse positions having worked as a wedding consultant, photographer's assistant, sales representative, event planner, pre-school teacher, high school recruiter...and that's just to name a few. Lisa is currently the Director of Business Development for Capital Financial Partners in Fort Worth. 
She has, on occasion, been referred to as a professional volunteer, she's been active in PTA for many years, served on the board for the Meredith Hatch Foundation, on the Pickled Mansfield Society board (and as one of the Pickle Queens), as well as various church and community groups. She's also a member of the Mansfield Chamber of Commerce and the Mansfield Women's Club.
Why do you do get involved in so many things?
I have made many friends over the years, and they know I am a sucker when they ask for help. I have a great love for the city of Mansfield and hope that in some way I can contribute something of value to this community. Mansfield Cares allows me to at least try. 
Mansfield Cares - August 2014 [9 Images]
Click Any Image To Expand
Embed this content on your website
Embed