Meet the New South Arlington Sprouts Farmers Market
Sep 10, 2014 06:53PM ● By Lisa Drake
A few of the Sprouts grand opening team
This morning we welcomed our newest grocery store, 
Sprouts Farmers Market
.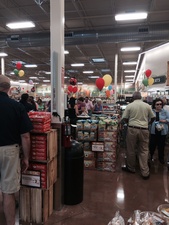 We were fortunate enough to attend the friends/family event there yesterday from 4-7pm and took a few of the pictures you see in the gallery above. I dropped by this morning during 
the much anticipated official opening
 and said hello to the manager.
The manager shared that there were 4 or 5 people in line at midnight last night to be one of the first in the door. For those who thought they'd simply show up shortly after sunrise they were greeted by an estimated 250 people waiting for the 7AM door opening and the parking lot was absolutely packed.
For their trouble, grand opening attendees were rewarded with free coffee, juice, muffin samples. Also free samples in the different departments, discounts, deals and other rewards.
There's still more fun coming on Saturday the 13th, Sunday the 14th and Saturday the 20th. You can learn more about what you can expect those days below...

South Arlington Sprouts Gears Up for September 10th Grand Opening to Include Customer Giveaways
Last month we wrote about More About the South Arlington Sprouts Opening September 10th and that article had tremendous interest by our readers so we wanted to share an update we got from... Read More 
Sprouts Grand Opening Pictures September 2014 [7 Images]
Click Any Image To Expand
Embed this content on your website
Embed