8 Year Old Brooklyn Competes in Summer Games of Texas 2014
Sep 12, 2014 04:10PM ● By Brian Ostrovsky
Mansfield Runner Brooklyn - September 2014 [21 Images]
Click Any Image To Expand
At 8 years old it's pretty clear to those who meet her that Brooklyn was born to compete. Full of life and energy she has enjoyed some recent successes including participating in the 2014 Summer Games of Texas.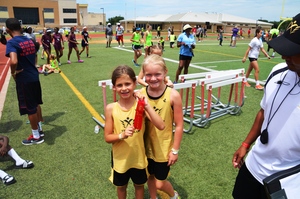 As a kindergartner she entered into her school's fun run that they have each year. It is a race around the school and she got 1st place and received a trophy. Now she is in 3rd grade and thrives in soccer, modeling, acting, jiu jitsu, singing, tumbling and her most recent hobby - track.
This past Summer family friends who own Triumph Youth Sports encouraged Brooklyn to sign up for track. Brooklyn loved the idea and started her first year this summer on an official track team.

She will tell you her favorite thing to do is run and play soccer. "I think she loves soccer so much because it allows her to run the entire time." shares Brooklyn's mom, Misti.
Brooklyn competed in several meets over the summer as well as the regional qualifier where she was able to qualify and advance to the 2014 Texas Amateur Athletic Federation "Summer Games of Texas" in College Station. At 3:11 the girl from Mansfield beat her personal record time coming in 3rd for her heat and 14th place for the state of Texas in the 8U 800m race.

Brooklyn enjoyed the opportunity to compete in the state race and the level of competition. There are hundreds of youth there of all ages competing and wanting to qualify so hitting a time that puts you at state is a big deal. She quickly noticed that everyone at state is fast.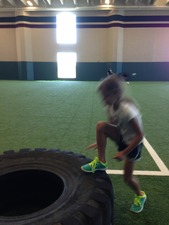 With two weeks to prepare once qualifying Misti regularly found Brooklyn in training mode.
"I actually found her reading an article online about how runners should train to become faster... We would be watching a movie on tv and she would get down in the floor and do a plank or sit-ups on her own. She would close her eyes and tell us 'I can see myself winning.' She threw a fit at Target for us to buy her a shirt that said 'Look like a beauty, train like a beast.' She gave up her favorite chocolate ice cream for the two weeks of training and even turned down the sweets at a track party that her team had. She inspired me, her family and those around her with her dedication to track and representing her region.  "
Brooklyn is most proud of breaking her personal goal and time, she ran the 1/2 mile at 3:11:05. She tells everyone it is not about beating the other runners but beating your own time, running your own race.  She said when she runs, she doesn't think of anything, her mind is empty and she just goes.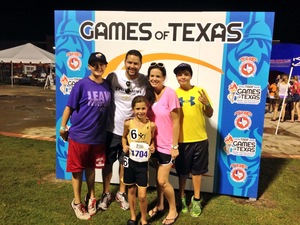 Brooklyn is the youngest of 3 kids. She has a brother, Austin, who is 14 and a brother, Ethan, who is 12.  No doubt having older siblings to keep up with has helped nurture Brooklyn's competitive spirit. She's also blessed by a large support structure of family and friends who support her while her coaches Howard and Shyra Smith with the Triumph Track team have helped her reach her first goal now she's got her eyes on bigger things.  

She can't wait until next summer when she will be old enough to compete in the 800m, that is her race of choice.
---
Do you know a local student, athlete, business owner, or do-gooder we should spotlight? If so, we'd love to hear from you. Start by taking a look at our web editorial calendar. 
Embed this content on your website
Embed