Mansfield HS Golfer Cameron Carr to Play with Pro Golfers on Champions Tour in Nature Valley First Tee Open at Pebble Beach
Sep 16, 2014 07:11PM ● By Brian Ostrovsky
Cameron Carr - First Tee 2014 [16 Images]
Click Any Image To Expand
Cameron Carr is a 17 year old Senior and golfer at 
Mansfield High School
 who is preparing for a trip to California to play alongside professional golfers in 2014 Nature Valley First Tee Open at Pebble Beach
, an official Champions Tour event that will be held September 26-28 and televised internationally on Golf Channel. 

He started golfing in 7th grade at 
Worley Middle School
 and began playing with The First Tee of Ft. Worth.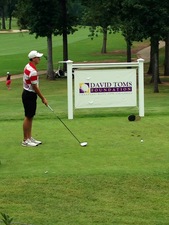 This year The First Tee of Fort Worth is sending Cameron and 5 other local golfers - Tarin Leong, Alexandra Batista, Reed Shelley, Andrew Errico and Daniel Dahlinger. The 6 participants from Fort Worth will join 75 other participants from The First Tee chapters for the event, which is in its 11th year. 

Candidates are selected based on golfing abilities, community service, multiple essays and rigorous interviews by The First Tee board members. More than 150 applications were submitted. Cameron was previously selected to attend Hank Haney's IJGA in July 2013 and The PLAYer Academy this past July. 
"Nature Valley is proud to be associated with this event, and thrilled to see these juniors get the call of a lifetime," said Joe Ens, vice president of marketing at General Mills. "The First Tee is doing incredible work helping young people learn important life lessons like the Nine Core Values. We look forward to welcoming all the players from Fort Worth and the full junior field at this year's tournament."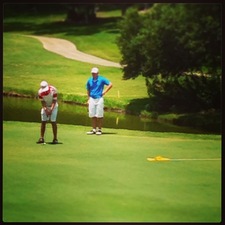 Cameron and the other juniors will be teamed with 81 Champions Tour players and 162 amateurs. This is an opportunity Cameron is eagerly anticipating as the chance to observe how professional golfers prepare for a tournament is something a junior golfer can learn a lot from. Not to mention the chance to play such iconic courses in a life tournament.

Cameron hopes to parlay these experience into a college golf career and then perhaps continue at the professional level. He plays throughout the year, during the Fall and Spring season he plays for his high school golf team while in the Summer he plays in the American Junior Golf Association (AJGA). He's solid with his scores averaging in the mid 70's. All this hard work is in hopes to play collegiate golf and getting to play in the PGA. 

Participating in the pre-tournament activities and playing in the 2014 Nature Valley First Tee Open is a once in a lifetime opportunity for Cameron and his fellow junior golfers. Join us in wishing Cameron good luck and a sure putter.
The First Tee of Fort Worth is one of 177 chapters around the country and in select international locations. Serving Tarrant and surrounding counties since 2004, more than 70,000 young people have been served through chapter programs and The First Tee National School Program, which is in 30 area elementary schools. The programs are focused on building character through The First Tee Nine Core Values: honesty, integrity, sportsmanship, respect, confidence, responsibility, perseverance, courtesy, and judgment.
To learn more about The First Tee of Fort Worth, visit
www.thefirstteeftworth.org
. For more information on the 2014 Nature Valley First Tee Open, visit
www.thefirstteeopen.com
. 
Cameron is following in the footsteps of classmate Nicholas Narcisse who participated in the Nature Valley First Tee Open last year.

Mansfield High School Golfer Nicholas Narcisse Named as a RBS Achievers of the Year Semifinalist - Aug 18, 2014
Mansfield High School Senior golfer Nicholas Narcisse is spending the week in New York City as a semifinalist for the RBS Achievers of the Year Award. Read More 
---
Do you know a local student, athlete, business owner, or do-gooder we should spotlight? If so, we'd love to hear from you. Start by taking a look at our web editorial calendar. 
Embed this content on your website
Embed