Q&A With Mansfield Police Department's Auto Theft Task Force
Sep 19, 2014 05:05PM ● By Lisa Drake
 In the late 2000's, Mansfield police officers like Sgt. Stan Davis began to notice an uptick in automobile-related thefts in the area, specifically tires and wheels. At the time, he was assigned to the Mansfield Police Department Criminal Investigations Division. 
"In 2010, there was approximately $190,000 in tire and wheel thefts reported to the Mansfield Police Department," he recalls. "In addition, we observed a huge surge in vehicle thefts, primarily of Ford F-250 trucks." The police department had a few options; one was to apply for a state grant through the Texas Auto Burglary and Theft Prevention Authority – the group awards financial grants to agencies, organizations and concerned parties in an effort to raise public awareness of vehicle theft and burglary and implement education and prevention initiatives. After two tries, the department was approved for the grant and received funding for the 2011-2012 fiscal year. That's when Davis was picked to implement and manage the task force functions in Mansfield.
Today, he is commander of the Tri-County Burglary & Theft Prevention Task Force. It's a group comprised of law enforcement officers from the Johnson County Sheriff's Office, Burleson Police Department, Mansfield Police Department and the Tarrant County Constables Office.  The officers conduct both proactive and reactive investigations, says Davis. You may have seen their vans driving around town.
He explains how most auto-related crimes that are reported to police in Johnson County, Mansfield and Burleson get assigned to the task force for further investigation. It's Davis' job to handle the supervision of task force staff, report to the area participating agency board of governors, prepare the annual budget and monthly reports, and assign and investigate criminal cases.
It's also his job to help create awareness of vehicle theft prevention techniques and strategies among the public. The task force serves the cities of Mansfield, Burleson and the entire Johnson County area, so there's a lot of ground to cover.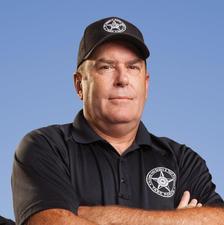 OFFICER DAVIS
Davis is a North Texas native who grew up in nearby Hurst.  He says as a young man he was always interested in becoming a police officer. "After high school I obtained my Emergency Medical Technician Certification and began to work for several ambulance companies in the DFW area," he says. "When I was old enough to apply to become a police officer I applied with Mansfield Police and was hired."
He's worked for the Mansfield Police Department since June of 1982. He's been assigned to the patrol division, was a K9 handler for 9 years, narcotics investigator for 10 years and criminal investigations supervisor for 3 years before being assigned to the task force in June of 2011.
He holds a Master Peace Officer License through the Texas Commission of Law Enforcement and has received over 3,600 training hours in various aspects of law enforcement. Davis says he enjoys leading the task force in Mansfield and loves, "The ability to work with multiple area law enforcement agencies to combat auto related crimes."
TAKEN TO TASK
We wanted to know more about the task force here in Mansfield and Davis was happy to explain. He told us that the task force is given specific goals from the Texas Auto Burglary and Theft Prevention Authority. "Each task force is tasked with creating objectives to meet each of the eight goals provided by the Texas Auto Burglary and Theft Prevention Authority," he says.
"Sometimes the words 'auto theft' are misleading to some," he says. "We actually investigate a wide array of auto related crimes, including commercial vehicles, commercial equipment, motorcycles, ATVs, boats and auto burglaries." 
Most auto-related crimes that are reported to police in Johnson County, Mansfield and Burleson are assigned to the task force for further investigation. Mansfield has 1 fulltime supervisor, 1 part-time secretary and 2 part-time investigators. Burleson has 1 fulltime investigator. Johnson County Sheriff's Office has 1 full time investigator and the Tarrant County Constable Precinct 7 has 1 part-time investigator. 
Davis says investigators typically review new cases assigned to them and attempt to contact their victims.  If suspects are in custody, investigators must file charges with the appropriate district attorneys offices. Then, if nothing needs immediate attention, investigators began the process of tracking leads, collecting evidence, talking with victims, witnesses and suspects to develop a solid criminal case for prosecution. 
"A large portion of each investigator's time is spent in the field to achieve this," he says. "The task force investigators handle a large case load in addition to self-initiated activity." One of the beauties of the tri-county task force, says Davis, is working with multiple agencies in the task force allows the them to become aware of criminal action throughout several jurisdictions and attack the problem together.
Every auto theft task force is responsible for creating public awareness in their area. Most have a task public awareness coordinator who oversees this function.  "We commonly set up a booth at community events, conduct report initiatives in area parking lots, place brochures in local business and use media outlets to educate the public of prevention measures," says Davis.
The task force does face challenges such as funding, says Davis. "It's the biggest obstacle that we face. The demand for the service is very high, while the grant funding is low," he says.  Personnel and equipment are in constant demand for most law enforcement agencies. And if the communities continue to grow, additional staff will be needed to manage the workload. 
Automobile-related crimes cost Texans millions of dollars each year.  By specializing in investigating these crimes, coupled with its proactive approaches, the task force, says Davis, will be able to contribute to the reduction of crimes.
Anyone interested in knowing more about the task force should call the office at
682-518-9242.
Personal Q&A with Stan Davis, Commander of the Tri-County Burglary & Theft Prevention Task Force in Mansfield
Stan Davis has spent his entire life around this area, and most of it in law enforcement. He grew up in Hurst and always aspired to be a police officer. He got his chance in Mansfield where he has worked over the past three decades in the patrol division, K9, narcotics, and criminal investigations before being assigned to the new Tri-County Burglary & Theft Prevention Task Force in 2011. He loves what he does and the opportunity to work with other law enforcement agencies in the three county area. After discussing the auto task force, we spent some time getting to know more about Davis when he's away from the office. Here's what we found out about him.
What do you like most about the community of Mansfield?  After serving the Mansfield Community for over 33 years I feel that it is my second home.  I love the family friendly atmosphere. 
How do you spend your free time? Hobbies? Interests?  My family enjoys hunting, fishing and baseball.
Where do you like to eat in Mansfield? Our Place, of course.
Who or what inspires you?  My family inspires me.  I have two grown daughters and two young sons.  They keep me very busy at all times.
Do you travel? Where?  We like to travel in our RV and visit Texas state parks.
---
Do you know a local student, athlete, business owner, or do-gooder we should spotlight? If so, we'd love to hear from you. Start by taking a look at our web editorial calendar. 
Embed this content on your website
Embed