Halloween Offers Opportunities for Sweets, Treats and Creepy Cuisine
Sep 19, 2014 05:32PM ● By Lisa Drake
 By Carol Ritchie
As the sun slithers below the horizon and dusk fades quickly to darkness, the creatures of the night begin to prowl. The full moon casts an ominous glow, scattering scary shadows that lurk around every corner. The wind whistles a haunting hymn as it rustles amber leaves and blows through brittle golden grasses, and provokes a petrifying pumpkin to flicker its jack-o'-lantern expression in eerie animation.
This spooky scenario tells of only one terrifying tale—another harrowing Halloween is here! It's time to summon the spirits and trick-or-treat in the twilight. Time for ghastly gatherings and gruesome grub. A monster mash is menacingly magical in merriment with proper portentous planning.
Trick or Treat!
Avoid the tricks and have the treats ready to share when the little monsters come calling. For the door-to-door costumed kiddies, it is always most appropriate to offer store-bought, individually-wrapped candies to tantalize their taste buds as they map their moonlight munchies madness. (For those truly in the crafty Halloween treat-sharing spirit, use string or thin ribbon to tie bite-sized candy bars in the center of white napkins—and dot "eyes" using a felt-tip marker—for a "ghost" treat.) But for parties and gatherings of family and friends, many other homemade confections are certainly worth considering.
Cakes, cookies and candies from the kitchen satisfy every sweet tooth on a haunted Halloween. Consider cakes in the shapes of infamous monsters, in dreary, dark-icing colors and adorned with food-colored coconut or chocolate sprinkles. Or shape a sheet cake like a gravestone, with gray icing and a spooky epitaph piped in black letters. A white layer cake—spread with raspberry, strawberry or cherry filling between the layers—looks magnificent frosted in white. But it oozes dark red when cut to serve. Use a pastry bag fitted with a wide tip to pipe small swirly mounds of icing in the shape of ghosts on top. Use two chocolate sprinkles near the top of each ghostly mound for "eyes."
Cupcakes are fun in many frightening forms. For a graveyard theme, bake small (1- by 2-inch), thin sugar cookies in the shape of tombstones to insert upright into the tops of freshly baked cupcakes. Use green icing to pipe little strands of "grass" around the "tombstones" on each cupcake. Pipe names or maniacal messages on the cookie tombstones for a dastardly delight.
My favorite creepy cupcake is a simple spooky spider sweet treat. For twelve chocolate cupcakes (prepared according to package directions), use 1 cup of chocolate frosting mixed with a very small amount of black paste food coloring (find this at a cake decorating store, party supply store or gourmet shop). Add just a little food coloring at a time, stirring well, until the color of the frosting is black. It doesn't take much (perhaps up to 1/4 teaspoon). Frost the cupcakes with the black frosting. Cut black licorice twists into thin strips, about 2 to 3 inches each. You'll need 8 "legs" for each cupcake. Insert the licorice—4 on each side—into the cupcakes to form the spider legs. Use round candies, such as cinnamon red hots, for "eyes," or use red icing to pipe the eyes and an hourglass shape on top for a terrifying black widow spider cupcake treat.
For the ultimate creepy spider cupcake presentation, and to serve as a dessert, create a chocolate spiderweb on each serving plate for the spider to sit on. Here's how:  Using a white plate, drizzle chocolate syrup (use a squeeze bottle) in a continuous spiral of circles from the center of the plate outward. Then simply drizzle several chocolate lines from the center to the edge of the plate. Set a spider cupcake (removed from the paper liner) on the center of the chocolate syrup spiderweb. Repeat the presentation for each spider cupcake and serve to delighted ghosts and goblins for a thrilling Halloween treat!
Cookies in the shapes of jack-o'-lanterns, scarecrows, ghosts and aliens, or black cats, bats and a witch's hat, are easy to make and decorate. A simple sugar cookie recipe and a collection of spooky cookie cutters will get the job done. Use white icing and food coloring for the appropriate Halloween colors. Homemade ladyfinger cookies actually shaped like fingers look eerily real when using a sliced almond for a fingernail on each one. Sliced almonds also work wonderfully as "ears" stuck into homemade truffles shaped like mice. Form small balls of chocolate ganache (melted, combined and chilled mixture of semisweet chocolate and whipping cream) into oblong shapes. Dust the truffles in cocoa powder (or powdered sugar for white "mice"). Insert two almond slices for ears, use a thin strand of licorice for the tail and use small candies for the eyes and nose for every chocolate mouse delight that craves to creep across a Halloween buffet.
Creepy Cuisine
When dinner is served, a frightful feast is in order! A selection of ghoulish goodies awaits the adventurous cook; a monstrous menu of gut-wrenching grub. A perennial favorite main dish meatloaf meets its maker when shaped in less-than-attractive body forms and covered with tomato sauce. Stick a knife in it and serve to startled spirits. Or bake a traditional meatloaf with a row of hard-cooked eggs buried in the center. When it is sliced to serve, a creepy egg "eye" stares back at the daring diner!
Deviled eggs are truly devilish when topped with single olives (with pimiento) and drizzled with ketchup in squiggly lines to resemble bloodshot eyeballs. Green olives are always perfect for "eyes" to top a variety of appetizers (or "horror" d'oeuvres!). Meatballs and cocktail weiners served in barbecue sauce seem to be rather appropriate fare without any horrifying enhancement.
Spaghetti pasta and spiral noodles are always great for a gross grubfest. Simply sticking olives in meatballs serves up a scary looking spaghetti supper. I have a similarly creepy recipe to spotlight that uses any combination of noodles to help achieve a glorious glutted jack-o'-lantern effect. My Halloween "Ghoulash" (see recipe) is ghoul-worthy when served in orange bell peppers that have been carefully carved like the ubiquitous pumpkins that perch on peoples' porches. The frightful-faced bell peppers serve as a festive edible food cup, raw or lightly baked (after stuffed with the goulash). If served uncooked, a cheese or artichoke dip would complement the raw sweet peppers nicely after their creepy contents are gutted and devoured.
For something a little less lurid and a lot of fun for youngsters, wrap hot dogs in strips of tortillas (or bread or biscuit dough), leaving just one end exposed, and bake in the oven until warmed through (or according to directions for baking the dough). Use ketchup or mustard dots for eyes on the mummy-wrapped hot dogs. (And have plenty of ketchup in a bowl for "mummy dipping!")
Use a bread dough (or a prebaked crust) to make a kid-friendly, Halloween-themed pizza. Spread pizza sauce (or a favorite spaghetti sauce) over the crust and place a small circle of shredded mozzarella cheese in the center. Surround the mozzarella with a ring of shredded cheddar cheese (leaving a ring of uncovered sauce around the edge of the pizza). Bake at 450°F for 10 to 15 minutes, until the crust is golden and the cheese has melted. Presto chango! When the cheese pizza is cut, the slices resemble candy corn!
Smashing Pumpkin
A Halloween party wouldn't be complete without the pumpkin! The much anticipated jack-o'-lantern greets every guest with a devilish grin, but your guests will be grinning when a delightful pumpkin soup is on the menu. Or perhaps a pumpkin cheesecake for dessert? There is no reason to wait for Thanksgiving to break out the pumpkin-based recipes.
For the ever-adventurous home cook, fresh pumpkin is the only way to go. While the large jack-o'-lantern pumpkins could fill many pies, it is best to leave those for carving. (And also, to bake the seeds for a salty snack!) Small pumpkins—usually designated in the grocery produce section as "pumpkin pie pumpkins"—are the best for roasting like any other winter squash. The mashed and smashed cooked flesh can be used in any recipe calling for puréed pumpkin; the fresh-roasted flavor will warm all saints' souls.
Get the Party Startled
Whether it's bobbing for apples or coating them in caramel, don't forget the traditional party treats. It's not a proper Halloween without popcorn and pumpkin seeds, candy corn and cupcakes, and crushed chocolate cookies layered with chocolate pudding—and creepy-crawly candies buried in the "dirt." Trick-or-treat bags always overflow with delectable autumn delights. Apple cider served in a witch's cauldron or a Halloween punch littered with a gummy-worm ice ring sends a chill down the spine. A dilapidated gingerbread house sits vacant and ready to haunt; the perfect decoration—a calamitous centerpiece certain to collapse—where macabre cookies can rest in peace in the haunted house "yard" while waiting to be gobbled. And your grub-gobbling guests wait in suspense for the Great Pumpkin to arrive!
Waiting … waiting … still waiting … "Boo!"
Gotcha! Hair-raising hijinks are around every corner. Another horrifying Halloween promises to scare the daylights out of us and fill our minds with nightmares while the undead walk the streets. When ghosts and goblins and witches and wizards invade your neighborhood, and when your family transforms into unlikely zombies, celebrities and superheroes, it's time to break out the fog machines and scary skeletons. And a delicious assortment of frightfully fun food for everyone to enjoy! After all, haunting your home needs a lot of nourishment for spooky spirits!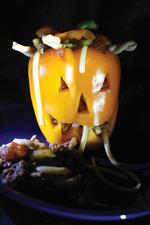 Halloween "Ghoulash"
Serves 6
1 pound ground beef
1 onion, chopped
1 green bell pepper, cored, seeded and chopped
2 cloves garlic, minced
2 (14.5-ounce) cans fire-roasted diced tomatoes
1 (15-ounce) can tomato sauce
1 teaspoon oregano
1/2 teaspoon basil
1/2 teaspoon sweet Hungarian paprika
Salt and pepper to taste
6 ounces spaghetti and/or spiral pasta, cooked according to package directions
1 cup shredded cheddar cheese
6 orange bell peppers, each core removed and seeded from the stem end, with a face cut into the side like a jack-o'-lantern
In a large, deep skillet, brown the ground beef on medium-high heat for 8 to 10 minutes, stirring occasionally. Add onion, bell pepper, and garlic (to keep away vampires!) and cook for 4 to 5 minutes, until onion and bell pepper are tender. Add diced tomatoes (with juices), tomato sauce, oregano, basil, paprika, and salt and pepper to taste. Bring to a simmer, then reduce heat to medium-low, stirring occasionally, for 10 minutes. Stir in cooked pasta and heat for 1 minute. Serve "screaming" hot! Serve shredded cheddar cheese on the side for topping, as desired. For Halloween, serve "ghoulash" in jack-o'-lantern sweet bell peppers, letting some of the strands of pasta hang out of the mouth and over the top for a ghoulish presentation!
 
Carol Ritchie is the host of "Cookin' with Carol." She has taught cooking classes in the Dallas-Fort Worth area for 25 years. 
Embed this content on your website
Embed