Chamas do Brazil Brings a Slice of Brazil to South Arlington
Sep 30, 2014 01:55PM ● By Lisa Drake
Chamas do Brazil is the newest upscale dining experience in South Arlington and it offers Brazilian authenticity through and through.  From its Brazilian owner to its handpicked gaucho servers, and of course, it's succulently-seasoned and roasted meats, it's a true Brazilian dining experience.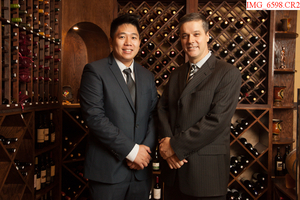 Entrepreneur Paulo Generoso was born and raised in Brazil before coming to America when he was 29 years old. "I wanted to experience the American dream," says the 46-year-old today. "I'm a true gaucho from Southern Brazil but the allure of America and the idea of seeking and achieving dreams brought me here." He initially settled in the Chicago area and opened his first successful Brazilian steak house there in 2002. A happenstance meeting with fellow entrepreneur Wade Linn brought him into a partnership and his newest restaurant endeavor in Arlington.
The partners took over the free-standing space on the south side of I-20 and Cooper that was previously occupied by a Chinese restaurant. In about 5 months time they remodeled and turned it into a chic Brazilian steakhouse. Chamas do Brazil is Portuguese for "Flames of Brazil" so Generoso had real gas flames installed outside the restaurant to burn bright and tie in with the name while attracting attention in the evenings when the restaurant is open for business.
UNIQUELY BRAZILIAN
There are a number of things that make Chamas do Brazil a unique dining experience, starting with its gauchos. "I handpicked gauchos from all over the country and brought them to my restaurant to ensure the quality of the food," he says. Each of the 10 gauchos at Chamas do Brazil dresses in traditional black baggy gaucho pants, boots and maroon colored camisas (shirts). But there's a Texas twist here. "Gaucho scarves are usually red or white, but ours are blue, the same color in the Lone Star flag," says Generoso.
Back in the kitchen where it matters most, he hired and brought in a seasoned chef all the way from Brazil. "I want the food done right," he says.
Brazilian restaurants typically don't offer menus and such is the case at Chamas do Brazil. Patrons can make choices from a heartily-stocked salad bar and then sample an array of meats that are brought to the table on skewers and sliced straight to the plate by the gauchos. Wines and Brazilian desserts are available and can be selected from a descriptive listing available to customers on an iPad brought right to the table. Brazilian music plays over speakers throughout the restaurant to complement the experience.
"I want people to come here for a nice meal or to celebrate some special occasion," he says. "We provide a memorable Brazilian dining experience."
The moment you walk into Chamas do Brazil you can sense the upscale feel. Just inside, a large glass-walled room shows off the restaurant's 150 different bottled wines. The dining area is very open and spacious and the lights are low giving it an after hours intimate feel. The mammoth salad bar is front and center here. The main dining room is decorated with iron chandeliers and a darkly-stained wooden wine rack. Dark hardwood floors and clay tile lend an elegant and fashionable style to the place.
THE FOOD
Chamas do Brazil's meat roasting method is based on the centuries-old gaucho tradition, known as churrasco. Churrasco originated in Southern Brazil where gauchos pierced different types of meat and grilled them over open-flamed pits. The concept offers a wide variety of different cuts of beef, lamb, pork and chicken to customers right at their table.
A meal here typically begins with a trip to the salad bar, which consists of over 50 different items and a number of hot dishes. You'll also find a deep selection of side dishes like fresh cheese breads, fried bananas, fried polentas and more. The main course begins when customers flip a coaster-sized chip from the "red" side to the "green" side, signaling the gaucho chefs that you're ready to be served meat Brazilian style.
There are 15 different skewered grilled cuts of meat, from Picanha (a top sirloin and house specialty) to Cordeiro (tender marinated lamb) to Costela de Porco (seasoned and grilled baby back pork ribs) to Frango (marinated chicken legs) and much more.
There are also authentic Brazilian desserts made from papaya and passion fruit, and, of course, 150 domestic and international wines available by the glass or by the bottle.
On our visit we were amazed at the size and variety of the self-serve salad bar. Fresh vegetables, homemade dressings, imported cheeses and prosciutto make for a great start. For the main course it was easy to choose Picanha. This is a cut of beef popular in Brazil and a house specialty at Chamas do Brazil. Freshly sliced from the skewer, it was savory, tender, just a touch salty and a whole lot delicious. We sampled both the passion fruit and papaya desserts. These were sweet and cool, perfect for the hot summer weather outside.  
Chamas do Brazil is Located at 4606 S. Cooper St. in Arlington. It's open Monday – Thursday for dinner from 5:00-9:30 p.m., Friday from 5:00-10:30 p.m., Saturday from 4:30-10:30 p.m. and Sunday 2:00-9:30 p.m. For more information or to make reservations, call 817-375-0250 or visit online at www.chamasdobrazil.com.
Chamas do Brazil [4 Images]
Click Any Image To Expand
Embed this content on your website
Embed