North American Reptile Breeders Conference Came to Arlington Last Weekend
Oct 01, 2014 06:30PM ● By Brian Ostrovsky
Marc Bailey Reptiles - United States Association of Reptile Keepers
North American Reptile Breeders Conference - Sept 2014 [6 Images]
Click Any Image To Expand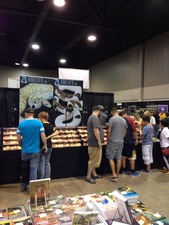 The North American Reptile Breeders Conference descended on Arlington this weekend and with it brought beautiful and exotic reptiles of all kinds.
If you weren't able to attend don't fret, the conference returns next February and we've included some 
pictures from the event courtesy of the NARBC's Facebook Page
.
Do you have any reptiles in the home?
We'd love to see pictures in the comments below.

North American Reptile Breeders Conference - Arlington - start: Feb 07, 2015 10:00AM
Attention Vendors who sell the following ONLY: -ALL non-indigenous venomous snakes -African rock python (Python sebae) -Asiatic rock python (Python molurus) green anaconda (Eunectes... Read More 

North American Reptile Breeders Conference - Arlington - start: Feb 08, 2015 11:00AM
Attention Vendors who sell the following ONLY: -ALL non-indigenous venomous snakes -African rock python (Python sebae) -Asiatic rock python (Python molurus) green anaconda (Eunectes... Read More 
Embed this content on your website
Embed